Your trade show exhibit should be designed to focus on your products, not your display. This doesn't mean that the graphics need to be subdued or your booth needs to be boring. It means that the graphics, colors and lighting should be integrated to draw attention to your product.
Make your products the star of your trade show display
Don't be afraid to be bold. Use high-impact colors that will stand out at a distance. A bland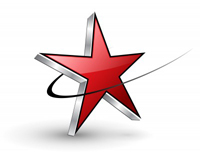 color palette will blend into the background and not draw attention or focus the audience on your product.
Be brand-true. You should support and build on your brand campaign. But your exhibit also needs to go beyond the brand message and convey what your company is about.
Use exhibit graphics to draw in high-potential prospects for your product. People can "read" images faster than they can read words. Use images to clearly define what your company does and to attract your target customers. Images are also an effective way to filter out people who are not likely buyers so that they do not take up your staff's valuable trade show time.
Limit your product display to focus on signature products. No matter how large your trade show exhibit space is, it is easy to dilute the overall impact of your display with visual clutter from too many products. If you want to tell an assortment story, organize your products into groups. Trade show attendees are most interested in new products and your most important products. You can use collateral materials or electronic product directors to provide information on your full product offering.
Use lighting to spotlight what is important. Lighting can accentuate the most important information and make your products stand out. Be creative in how you use lighting to draw attention to your products. Backlighting graphics, for example, can increase initial awareness and recall of your exhibit.
The design of your trade show display can draw attention to your product. The right graphics, colors, and lighting can grab the attention of your best prospects and make your trade show exhibit a true product showcase.
Exhibit design is a powerful reflection of your brand and, in fact, part of your branding. Trade show booths involve your company logo, products and employees. They serve as giant, interactive business cards.
So, even if you're not making a huge investment in exhibit design, it's worth revisiting the core elements of your branding to make sure all the pieces of the puzzle fit together. Here, we'll take a quick look at graphically and lyrically spicing up your exhibit booths.
Trade Show Graphic Design
A competent exhibit company should be able to provide you with exhibit designs that effectively communicate your brand. You may even wish to incorporate into this process your in-house or consulting graphic designer.
Embrace your three-dimensionality. Most of your branding materials are probably flat, "conventional" pieces. Graphic designers jump at the opportunity to work with exhibit designers to breathe fresh life into larger, 3D displays.
Maintain focus. While it's tempting to incorporate every bell and whistle within your budget, visitors will lose interest quickly if they can't figure out what's going on. Speak to your specific offerings and value-added features relatively early in the engagement process.
Consistent with the 3D theme, reach out and grab your audience's attention. You're not only trying to engage people at your booth but those down the aisle and across the room.
Trade Show Custom Copy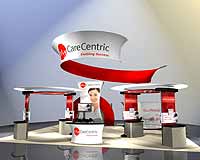 A bit more innovation is possible with your written materials than with your brand graphics. While you can't and shouldn't change your logo for every trade show, show-specific copy is an excellent idea.
Written materials can be customized–partially, at least–for each trade show you participate in. Keep everything as short and concise as possible. Making sure that the information is timely will help you to stand out from the crowd, especially if your competitors' materials have gone stale. Engage your customers and support your sales and marketing strategies with a custom trade show booth.
Graphics Are the Most Important Design Element of Your Trade Show Display
For the vast majority of tradeshow displays, the graphics are the most important design element. No matter how beautiful a display is, if you hang poorly designed graphics on it, it just looks awful. And attractive graphics aren't enough – they must be effective as well if you want to get the maximum ROI on your tradeshow dollars. In order to get the best graphic design results, you should start by carefully considering your objectives and how your tradeshow display's graphics might help you achieve them.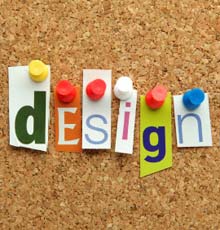 Too often, companies choose to just blow up their logo and a few of their magazine ads or a page from their website, stick them on the backwall and call it a day. People who view a web page or magazine ad spend considerably more time reading and also expect to get complete information from this type of graphic. Tradeshow graphics, on the other hand, need to be read and understood in the 3 seconds that it takes an attendee to walk past your booth.
Let's consider the graphics on a standard 10-foot backwall display. The normal way to arrange graphics is to put your company's name and logo on a large sign at the top. This is just fine if your company is Coca-Cola, or Nike, but lesser known brands might want to add a few words that describe what the company does or maybe a bold statement that grabs the attention of the visitor.
Design Graphics to Support Your Sales Presentation
The balance of the graphics in a small booth can be used to create an atmosphere, list features and benefits of products or show products in use. I prefer to design graphics that support a sales presentation. Once a prospect has stopped at your booth, the booth staff can easily do a brief sales presentation using the graphics as visual support.
Once you have established your objectives, it makes sense to take advantage of the experience an exhibit designer brings to the table. Share with them your goals and allow them to provide input on graphics that are going to be displayed.