Preparing a corporate marketing budget these days is a daunting task. All companies need to increase sales leads and amp up revenues, but shrinking marketing budgets have forced companies to carefully consider what must stay and what must go as far as budget items. An important component of the overall marketing budget is the portion allotted to tradeshows, which can be a valuable tool to help increase the visibility of your company and boost sales.
The reality, however, is that no matter how you look at it, tradeshows are expensive endeavors. You have to rent the space, create a display, promote it, stock it, and staff it. So before you decide to undertake a tradeshow, take a comprehensive look at all the costs associated with exhibiting as well as the expected returns.
Establishing an accurate tradeshow budget early is essential to developing an overall strategy that will achieve success and assure upper management buy-in. The amount you allocate to tradeshows will depend upon the scope of your efforts and the number, size and location of the shows you are planning on exhibiting at throughout the year. Though strategies will vary from company to company, the methods of establishing a tradeshow budget remain relatively the same.
Let's take a look at some of the larger components you'll need to be cognizant of when preparing your overall tradeshow budget.
Space rental. Exhibit halls will charge your company based on the size of your display so determine early what size booth you will be using so you can more accurately estimate how many dollars to allocate to booth space rental.
Utilities and related booth expenses. There will be a charge for installing and dismantling your booth. Other expenses include electricity, gas, water, and any other items you may require at your booth during a show.
Exhibit display, signage and accessories. This would include everything from display production, graphics, and banners to booth furniture, literature racks and any equipment needed to demonstrate your products. Crating and storage costs should also be added to this category.
Shipping and drayage. This would include all expenses associated with transporting your exhibit and materials to each location. Freight would include charges for shipping your exhibit, literature, and any other materials to the event location and back to your office or warehouse. Drayage costs account for items delivered to and from your booth space from the loading dock of the exhibit hall or conference center.
Travel and entertainment. Try to put together a realistic estimate on what it will cost you and your staff to attend each tradeshow. This estimate must include travel expenses (airfare, taxi fares, rental cars, etc.), meals, and hotel expenses. This category would also include any expenses associated with entertaining prospects and customers during the show.
Show marketing. This would include all the marketing and sales collateral required to support the exhibit. These materials could be used at multiple shows, so keep in mind that these costs will be spread over a number of shows. These might include product literature, handouts, staff training, and show promotional items.
Want to know how to leverage our experience and make your trade show budget go further? Let's talk.
A reality of the past years of recession is that companies across all industries have had to tighten their belts when it comes to marketing initiatives. One of the biggest and most costly pieces of the marketing pie is trade show exhibition. Marketers and exhibit managers are then faced with a challenge.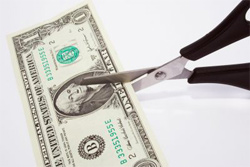 How do they increase sales and bottom-line revenue without the resources to amp up their marketing efforts?
Borne out of necessity and a lack of monetary influx into their existing budgets, many marketers and exhibit managers have found creative ways to do just that. And, it's no magic trick. Simple cost cutting measures that help shift resources and reallocate money into areas of your company's marketing efforts that can deliver the most benefits and payoff during economic downturns, such as trade shows.
Here are a few ways you can cut money out of your exhibit budget:
Buy, don't rent. Renting accessories, equipment and individual components (display racks, folding chairs and tables, etc.) from an exhibit hall or show- appointed vendors adds significant expense to your overall exhibition budget. Save big bucks by shipping these items from your home office or storage warehouse. Even with shipping and drayage costs, you'll still come out ahead for most items. This logic applies to your actual booth itself; if you exhibit at multiple shows per year, but don't rent.
Cut travel expenses. Hotel costs for traveling staff members can very quickly add up and bloat your trade show budget. Learn to negotiate with hotels to get the best deals; also, bigger shows typically negotiate with local hotels to offer special "show" rates for exhibitors and attendees. Join hotel chains' customer loyalty programs to get other free bonuses, such as free stays after a certain number of stays. Double up employees of the same sex in one room and look for hotels that offer free breakfast.
Lighten your load. Reduce your shipping and drayage costs by taking a close look at what you'll really need on-site and in your booth. Focus on one product to highlight; don't bring every product in your line. An overcrowded booth is a turnoff for attendees and makes it more difficult for visitors to focus on the one product you're announcing or launching at the show. You might also be able to trim some off your drayage costs by shipping some things, such as brochures and other collateral material, directly to your hotel.
Order show services carefully. This is kind of like the hotel mini-bar. Seems so convenient, but when you check out and see that you shelled out $7.50 for that can of pretzels, you might think otherwise. Order the necessities (electricity, lighting, booth cleaning, etc.) by the earliest deadline and you might be eligible for a discount. Determine the actual wattage needs of your equipment and make sure that you don't order more than you need and bring your own electrical power strips.
Want to see how we can help you take advantage of these cost-saving tips and more? We'll do it right for you – Let's Talk.