Tips for Designing Effective Exhibit Graphics
Warning
: file_get_contents(http://www.linkedin.com/countserv/count/share?url=http://alexisexhibits.com/tips-for-designing-effective-exhibit-graphics&format=json): failed to open stream: HTTP request failed! HTTP/1.1 404 Not Found in
/homepages/1/d100598707/htdocs/clickandbuilds/AlexisExhibits/wp-content/plugins/tk-social-share/tk-social-counter.php
on line
145
Exhibit design is a powerful reflection of your brand and, in fact, part of your branding. Trade show booths involve your company logo, products and employees. They serve as giant, interactive business cards.
So, even if you're not making a huge investment in exhibit design, it's worth revisiting the core elements of your branding to make sure all the pieces of the puzzle fit together. Here, we'll take a quick look at graphically and lyrically spicing up your exhibit booths.
Trade Show Graphic Design
A competent exhibit company should be able to provide you with exhibit designs that effectively communicate your brand. You may even wish to incorporate into this process your in-house or consulting graphic designer.
Embrace your three-dimensionality. Most of your branding materials are probably flat, "conventional" pieces. Graphic designers jump at the opportunity to work with exhibit designers to breathe fresh life into larger, 3D displays.
Maintain focus. While it's tempting to incorporate every bell and whistle within your budget, visitors will lose interest quickly if they can't figure out what's going on. Speak to your specific offerings and value-added features relatively early in the engagement process.
Consistent with the 3D theme, reach out and grab your audience's attention. You're not only trying to engage people at your booth but those down the aisle and across the room.
Trade Show Custom Copy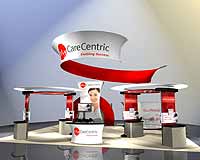 A bit more innovation is possible with your written materials than with your brand graphics. While you can't and shouldn't change your logo for every trade show, show-specific copy is an excellent idea.
Written materials can be customized–partially, at least–for each trade show you participate in. Keep everything as short and concise as possible. Making sure that the information is timely will help you to stand out from the crowd, especially if your competitors' materials have gone stale. Engage your customers and support your sales and marketing strategies with a custom trade show booth.