Trade Show Tips – How to Do More with Less
A reality of the past years of recession is that companies across all industries have had to tighten their belts when it comes to marketing initiatives. One of the biggest and most costly pieces of the marketing pie is trade show exhibition. Marketers and exhibit managers are then faced with a challenge.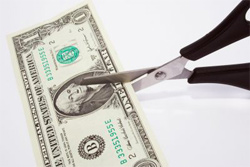 How do they increase sales and bottom-line revenue without the resources to amp up their marketing efforts?
Borne out of necessity and a lack of monetary influx into their existing budgets, many marketers and exhibit managers have found creative ways to do just that. And, it's no magic trick. Simple cost cutting measures that help shift resources and reallocate money into areas of your company's marketing efforts that can deliver the most benefits and payoff during economic downturns, such as trade shows.
Here are a few ways you can cut money out of your exhibit budget:
Buy, don't rent. Renting accessories, equipment and individual components (display racks, folding chairs and tables, etc.) from an exhibit hall or show- appointed vendors adds significant expense to your overall exhibition budget. Save big bucks by shipping these items from your home office or storage warehouse. Even with shipping and drayage costs, you'll still come out ahead for most items. This logic applies to your actual booth itself; if you exhibit at multiple shows per year, but don't rent.
Cut travel expenses. Hotel costs for traveling staff members can very quickly add up and bloat your trade show budget. Learn to negotiate with hotels to get the best deals; also, bigger shows typically negotiate with local hotels to offer special "show" rates for exhibitors and attendees. Join hotel chains' customer loyalty programs to get other free bonuses, such as free stays after a certain number of stays. Double up employees of the same sex in one room and look for hotels that offer free breakfast.
Lighten your load. Reduce your shipping and drayage costs by taking a close look at what you'll really need on-site and in your booth. Focus on one product to highlight; don't bring every product in your line. An overcrowded booth is a turnoff for attendees and makes it more difficult for visitors to focus on the one product you're announcing or launching at the show. You might also be able to trim some off your drayage costs by shipping some things, such as brochures and other collateral material, directly to your hotel.
Order show services carefully. This is kind of like the hotel mini-bar. Seems so convenient, but when you check out and see that you shelled out $7.50 for that can of pretzels, you might think otherwise. Order the necessities (electricity, lighting, booth cleaning, etc.) by the earliest deadline and you might be eligible for a discount. Determine the actual wattage needs of your equipment and make sure that you don't order more than you need and bring your own electrical power strips.
Want to see how we can help you take advantage of these cost-saving tips and more? We'll do it right for you – Let's Talk.