Trade Show Preparation Checklist
Warning
: file_get_contents(http://www.linkedin.com/countserv/count/share?url=http://alexisexhibits.com/trade-show-preparation-checklist&format=json): failed to open stream: HTTP request failed! HTTP/1.1 404 Not Found in
/homepages/1/d100598707/htdocs/clickandbuilds/AlexisExhibits/wp-content/plugins/tk-social-share/tk-social-counter.php
on line
145
Things to do before leaving for a trade show
Create a trade show project timeline. Take a look at the show exhibitor manual that is available online. Many show manuals include a chronological list of deadlines that make an excellent starting point for your personalized project timeline. Things that you may add to this list include: preparation and shipment of your products and literature, making your travel arrangements, hotel accommodations for your staff, making arrangements for activities, dinners, etc. during the show.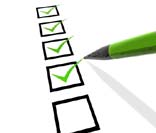 Make a folder or binder to contain all of the confirmations and show services forms that you have submitted.
Create a list of important telephone numbers. These are specific to each show. This can be done electronically or manually but should be something that you have with you at all times in the trade show city.
Check the weather in the trade show city. Make sure that you bring the right clothes for the climate and keep in mind that the convention center might not be heated or air conditioned during installation and dismantling.
Take a good digital camera to document things. Cell phone cameras are getting better but the best results can be expected if you use a decent quality portable digital camera. You will want to photograph your display to reference for future show planning. You may need to document damage to items during shipment. You may wish to take some shots of competitors' displays or other exhibits that you find attractive.
Plan how you will evaluate the show and collect the necessary information.
Make sure that your booth staffers are aware of the show hours and when they are to work the booth.
Plan a booth staff orientation meeting in the booth before the show opens on the first day to make everything work smoothly.
Think about dismantle. Where and how are your materials being shipped after the show? Have labels and paperwork filled out to eliminate unnecessary confusion during dismantle.
Leave yourself sufficient time to catch your plane. Dismantle will go much better if you are not in a rush to get to the airport.
Do you need trade show help? Click here for a list of services Alexis Exhibits provides to make sure everything goes according to plan.
Good luck with the show!