Theatrical Trade Show Booth Lighting
Theatrical lighting in a trade show booth can add dramatic effect to almost any display property on the show floor. Different lights and lighting effects can be used to enhance color, create a mood among attendees, focus an attendee's view to a feature area, and create visual texture, all enhancing the attendee's experience.
However, the budget for theatrical or moving lights can quickly escalate. That's why, when a company sets out to build a new booth or rent a property, lighting is often the last thing considered, and even more often, the first thing cut back. So how and why should you keep lighting in your trade show budget?
Consider the basics when creating a trade show exhibit lighting package:
What is the effect you wish to achieve?
What is the benefit of that effect on the attendee?
How does that relate to the attendee's impression of your exhibit?
What is your budget, and how much of it do you wish to allocate to the lighting package?
"HEY, LOOK AT US!"
Amid the wide expanse of the show floor, a static booth with little or no lighting easily gets lost. However, an exhibit with good lights screams, "Hey, there is something exciting over here!" The result? Attendees come to see what it's all about. Once the attendee is near or in the booth, colored and moving lights add life to an otherwise static display. The colors and moving "textures" can create a mood of peace, elegance, or an over-all feeling of warmth that can make attendees more at ease, and more likely to stay around.
The additional benefits of trade show booth lighting are simple:
Use lighting to draw attention to areas within the booth you wish to feature. Well-positioned lighting can help your graphics and equipment "pop" amidst the yellowish-hazy hall lighting that tends to be rather drab. Full-color graphics show more color, equipment can appear even more shiny and polished, and the everyday background canvas of the booth fades even further into the background, highlighting the items you really want attendees to focus on.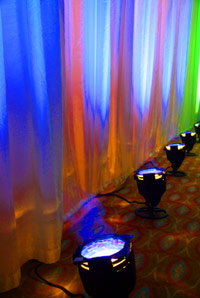 What will you need to include, and what effect will lighting have on cost? First, the overall cost of your electrical order will increase. To create the lumens required just takes more juice. You will also typically need a distribution panel to distribute the electrical. In most cases, this will go on the floor, somewhere in a dedicated space; a safe estimate of space required would be around 100 square feet. In addition to the panel, moving lights may need a lighting board (a sort of "brains," if you will), to control the intelligent lighting. You will need a technician to program the lights and get the board up and running prior to the show. A good technician, with availability during the show, is likely to be more expensive, but is a good investment. The price may be a little higher, but peace of mind can be priceless, as any mid-show hiccups can be quickly dispelled.
With a well-planned lighting package, your tradeshow ROI can increase traffic and improve attendee perception.