Staff Your Trade Show Exhibit to Make the Sale!
You've done everything brilliantly. Your new trade show exhibit has arrived and is set up. Your product displays are stunning. Your agency put together collateral that will impress your prospects. Everything is set for the show opening — or is it?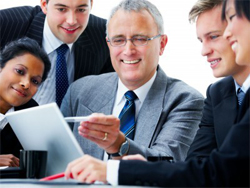 The majority of buyers only attend one or two trade shows a year, and they come to the show planning to make buying decisions. Plan ahead so you have the right team to close the sale.
Are you properly staffed?
Most people are aware that having a well-trained trade show exhibit staff is one of the keys to trade show success. But it is just as important to be properly staffed.
Make sure you have the right staffing mix at the show. What functions need to be represented? Do you need technical staff or product specialists to support your sales team? Augment your trade show exhibit team with home office staff who are on call and available to answer questions and provide information to key prospects.
Do you have enough staff to cover the booth?
Even in a small trade show exhibit, it is ideal to have at least two people at your booth all the times so that one person is free to leave the booth and interact with attendees as they are walking by. If you are trapped in your booth waiting for them to come to your trade show exhibit, you will miss key prospects.
Make sure your team maximizes downtime
There is a lot of downtime at a trade show. Some experts estimate that as much as 90% of the time exhibitors spend at a trade show is wasted. Organize lead follow-up activities so that they can be done from the exhibit floor during these idle periods. Send out follow-up emails to prospects. Gather information to answer questions from prospects and get these answers to prospects before the show ends. Meet with the press to generate some proactive PR for your company. Have your team communicate trade show news to key prospects who could not attend the show from the trade show floor.
The right team is the essential element
Put the right team in a great trade show exhibit. Give them the training and tools they need to succeed and you will increase your trade show sales.