Choosing the Best Trade Show Display For Your Needs
Once you've decided to take the plunge into tradeshow exhibiting, the next question might be: what type of display or exhibit will we need? The answers will vary depending upon a multitude of factors.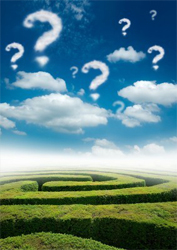 You'll need to ask yourself some basic questions, such as: how large are the events you wish to participate in? What type of audience do you wish to attract? What location type (in-line, corner, end, island) and size of booth space are you considering?
Other questions in regards to the frequency of exhibiting and how you will transport your exhibit also need to be considered before you can determine which type of display will best serve your needs and meet your tradeshow objectives. Another important question is how much do you have to spend on a display. When you include the physical display itself, plus banner stands, lighting, and accessories, you could be talking anywhere from a few thousand to over $50,000 in costs.
Once you've determined all these things, it's time to start evaluating the different types of displays. Let's take a look at the various types.
Pop-up displays. These are made up of a lightweight, folding frame covered with magnetic-backed fabric, vinyl, or plastic panels. These displays are available in tabletop or floor versions.
Pros: Because they are lightweight, they are easily handled and less expensive to transport.
Truss displays. Structured around lightweight or aluminum tubing, these displays can be configured in a variety of shapes and sizes, from entire booths to special exhibit features, display walls, islands, and entranceways.
Pros: Highly configurable for added flexibility.
Panel displays. These displays are made up of fabric-covered rectangular sections that are connected to make a wall.
Pros: Also very flexible because they can be configured to fit different sized and shaped booths.
Table-top displays. This display type, which features a lightweight display that sits on top of a table, is ideal for small events. The displays typically have three panels with Velcro-attached graphics and headlines that can be easily changed and updated. Some come with briefcase-style cases for easy transport.
Pros: Least expensive option and more durable than pop-up systems.
Banner stands. These banner stands provide an easy, lightweight means to display your corporate banners or other signage. These are available in single, double or triple-sided models. You can use two placed together or separately in different locations within your booth. Some come with lights to enhance the image display.
Pros: They are lightweight, portable and durable.
Custom displays. Exhibit companies can help you design your own custom display in any size or configuration will fit your needs. You can also incorporate accessories, including cabinets, countertops, backlighting, and bridges. Most will also offer a no-obligation design and price quote for your proposed design, so you can weigh your options before committing to anything.
Pros: Designed exactly with your needs in mind.