Tradeshow Booth Staffing Tips
Hiring tradeshow talent and booth staff can provide an exhibitor much better returns on investment than in years past, providing that one understands the need, and seeks the most qualified candidate(s) to fill that need.
Pre-Qualify Prospects: Trade Show Talent Acts as an Ambassador for Your Booth
Browse the internet for convention and tradeshow models, and you'll find that there are hundreds of agencies providing this type of service. With so much to choose from, where to begin? First, prioritize your needs as an exhibitor. The early days of car show models & booth babes have expanded into tradeshow talent that can not only greet attendees but also demonstrate products and engage attendees in conversation. When considering hiring staff, be sure to consider what the role of this hired talent will be.
When Hiring Talent for your Tradeshow Booth, Find a Reputable Agency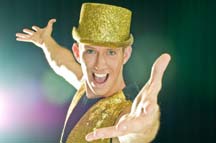 If you expect superior communication skills, good eye contact, and a witty personality, then you shouldn't just go online and start looking for price quotes. You'll want to start by finding a reputable agency, preferably one recommended by a display house, that has numerous testimonials and references. Furthermore, you will want to outline, in writing, precisely what you will expect from your hired tradeshow staff. They are, after all, an extension of your sales staff, as the CMT agency states on it's website "More important than just being attractive, they know and exemplify the fact that being outgoing, friendly, engaging and professional are what matter most on the tradeshow floor."
Base your search for hired staff on your written outline of criteria. Speak to the agency about the qualifications and experience of each booth model. Ask the agency the tough questions, don't be afraid to shop around. You will find that some agencies book superior talent, far beyond what might be considered standard or acceptable, including interpreters, product presenters, costume characters or entertainers. Find some talent with more than just a pretty smile. You might find that a well-qualified presenter just happens to be available during your show days, and needs the work. Why settle for a bikini model when you can have an excellent ambassador in your booth?
Include Tradeshow Booth Talent in Your Booth Staff Training
Before the show, outline a plan for your hired staffers. Share it with them well in advance so they may ask questions and get clarification. Expect them to show up well before the show starts each day, and have a briefing about expectations and or goals. INCLUDE THEM IN YOUR BOOTH STAFF TRAINING! You will want to emphasize the importance of pre-qualifying prospects, a major part of booth staff training. At the end of the day, have a wrap-up meeting, and again, include them with your staff. You are, after all, paying a premium – so why not demand a little more? If you make your staffing choices well, you can not only increase traffic and lead generation, you will also ratchet up tradeshow ROI.