Trade Show Success: Integrate Live Online Video
Trade shows have always been great PR opportunities because they get press coverage. For decades, companies have used trade shows to make major announcements or introduce new products. Usually, these announcements get more press coverage than they would ordinarily get because reporters covering the shows are looking for news.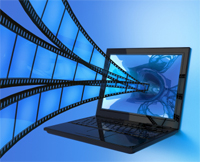 For the past few years, companies have been extending their news reach by using social media platforms such as Facebook or Instagram to provide live online video of company announcements, news conferences, trade show product demonstrations and other events directly from the trade show floor. All of these platforms incorporate live chat that can be used for "Q and A" sessions between company representatives and reporters, bloggers or the general public.
Now, some companies are cleverly reversing their trade show live streams to bring their entire company to the trade show. Some connect trade show attendees to company executives or technical representatives for live chat events. Other exhibitors are incorporating live feeds of their manufacturing facilities or service centers into their exhibits. The variety is almost endless.
Be Creative
Don't limit your imagination about how to use live online video. Live video streams can be a great way to promote your exhibit before the show. It can be a great way to present highlights of a show when it is all wrapped up. Live video of product demonstrations and testimonials from the trade show floor can be powerful at generating online sales while the show is going on. If a company representative is making an important presentation at a show, consider how you can use online video of this presentation to promote your company and products.
Consider providing a show cam to your entire team "back at the office" or in the field
Live video can keep your entire company involved with the show. Think about running a daily live stream program from the show just for your company's staff. It can be as simple as a daily wrap up of the big events from the show and observations of what the competition is up to.
Don't push the boundaries of the technology too far
Technology can be great but it is no substitute for the live one-to-one contact that trade shows make possible. Make sure that your company is well represented by the people staffing your exhibit.
Plan for everything to go wrong
Live online video can be great but it is not always reliable. Make sure that you coordinate any live stream plan with the show staff and your tech support team. Test everything in advance, and then test it again. Make sure you have a contingency plan and that the live video broadcast is just a plus to your overall promotion and PR plan. The best way to have things go smoothly is to plan for problems.
Have you ever incorporated a live streaming video into your trade show sales effort?