Trade Show Strategy: Plan it Like an Expedition
I like to think about a trade show like an expedition. I'm headed off to some exotic land in search of treasure. I will be deep in the jungle, cut off from civilization for days. It will be hard to get supplies. I know that my team should expect no outside help. The fate of the entire expedition rests in the hands of the people I choose to man the booth, careful planning and how well equipped we are to meet the expected – and unforeseen – challenges.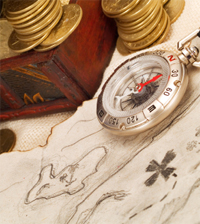 The treasure is, of course, new customers and sales. And getting those new customers requires an action plan.
Plan your targets in advance
About 75% of show attendees plan booth visits and meetings before the show starts. Review the attendee list in advance of the show. ID your targets. Start to invite people to visit your booth a few weeks before the show. Personal phone calls are most effective and harder to ignore than e-mails and mailings. Think about pre-show communications that will create anticipation of your booth – it can feature a special promotion or some buzz about a new product release.
Make sure you and your team are outfitted for this adventure
Select clothes that look professional or that support the theme of your booth, but also make sure that everyone will look great all day. Plan on it being either too hot or too cold – attire with a jacket that can be removed is a great choice. And wear comfortable shoes. (One of the biggest mistakes I ever made was wearing beautiful, brand new shoes that were not a great fit to a trade show.) It is almost impossible to really smile if you have been standing for 6 hours and your feet hurt.
Have enough staff or find a partner
Ideally, you will have enough staff in your booth to meet with prospects and give your team breaks. If you have limited staff or have only one person at the booth for a show, find another larger company to partner with. It is best to do this before you select your booth location so that you can be located next to each other or share a larger space.
Pick the right team
Who you pick for this "expedition" is essential to making it successful. Fill your team with high-energy people who have an upbeat attitude. And make sure that everyone who is representing your company has deep product knowledge.
Plan your sales material carefully
People who attend a show are bombarded with information and the best way to be remembered is from your sales literature. Make sure it is easy to carry and packed with valuable information – your goal is to make sure people take your material back to their office. If you have a really valuable prospect, make sure to get their contact information and send material to them after the show.
Carefully select your bait
Over 90% of exhibitors bring a premium or free sample to give away at a trade show because offering an attractive free gift is great way to attract people to your booth. You will be the best choices and can usually save money if you plan this in advance.
What do you do before a show to make it more successful?