The Perfect Trade Show Booth Requires a Great Team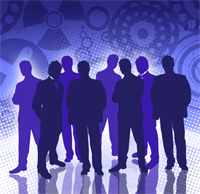 Have you ever been to a trade show and see a great exhibit, but no one is there to greet you? Or you start to approach a booth and see a couple disengaged people slumped in chairs, hiding? Or the booth staff is occupied talking on their cell phones and texting? My bet is that you just passed this exhibit by.
The team who staffs your booth is a critical part of a successful event. Make sure they are properly trained, motivated and equipped to succeed.
Select people to staff the booth who have the right attitude. You need people who are open and approachable, who can smile when their feet hurt, and who really enjoy meeting new people.
Train your team so that they know the main messages you want to communicate at the show, and can answer most customer questions. Knowledgeable people in your booth will generate higher quality leads and more sales.
If product demonstrations or structured sales presentations are part of the exhibit, make sure that every member of your team is at least loosely scripted and has rehearsed.
If you have any special promotions, make sure the booth staff understands all the details and deal terms.
Have a formal staff schedule and base the staff rotation on the expected trade show volume at given time. Develop a contingency plan to adjust staffing if needed.
Establish a dress code which is consistent with your company's or organization's brand and the booth theme.
Formalize the lead qualification process and make sure everyone uses the same criteria to qualify prospects and record contact information.
What do you think is the most important factor when selecting someone to staff your trade show booth: product knowledge or positive attitude?