As companies look to find ways to make every marketing dollar work harder, some trade show exhibitors have tried to reduce expenses by participating in virtual trade shows. Initial results have shown that virtual trade shows generate few leads and a higher percentage of unqualified leads. Now a report from Cornell University has started to shed some light on the behavioral effect of live vs. virtual meetings.
The Center for Hospitality Research at Cornell University recently released a report, The Future of Meetings: The Case or Face to Face, that concluded, "The intangibles of face-to-face meetings can be more potent than virtual and online technology when it comes to capturing the imaginations and enthusiasm of attendees."
The study authors found that "real" events hold the attention of attendees and allow the formation of valuable personal relationships making trade shows, conventions and corporate events well worth the investment.
The report stated, "Large face-to-face meetings and events are the best option when a business or organization needs to capture attention necessary for a new or different strategy, relationship or product."
The report concluded that face-to-face events are the best option for:
Capturing attention: Attendees have fewer distractions on the exhibit floor and are less tempted to check e-mails or do other multi-tasking chores than they would when taking part in a virtual event.
Inspiring a positive emotional climate: Attendees like to associate with their peers. Even people working on virtual technology attend physical conferences.
Networking and relationship building: Socializing and making new friends in an industry can have great appeal. Experts predict informal networks of people within an organization that are bonded by a group loyalty will become even more important than traditional chains of command as the economy recovers.
The entire report can be found at Cornell's Center for Hospitality Research website.
As a response to the US economy's Great Recession and as protection against future bust cycles, many organizations are increasingly thinking global, looking to expand their businesses into emerging foreign markets. Exhibiting overseas is one of the fastest and most cost-effective ways to identify the best foreign markets for your company's products and services.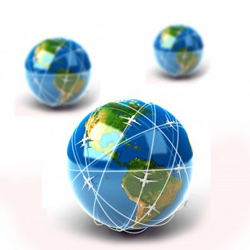 Exhibiting internationally introduces many new challenges for organizations and requires thorough research to determine which ones will attract your target market. A good starting point is the U.S. Foreign Commercial Service (FSC), part of the International Trade Administration of the U.S. Department of Commerce.
If you're the person put in charge of exhibit management at your company, you need to do your research to make sure your company's significant investment into international trade shows isn't a waste of time and money. Tactics that have proven successful in trade show exhibiting in the U.S. might fall flat in another country.
Here are a few tips to keep in mind when exhibiting internationally:
Hire a translator. Probably the most important step is to hire an expert (preferably native-born) translator who not only understands the language but the culture of the country and its people. This person will prove instrumental in helping fine-tune your company's marketing message, slogans, and marketing collateral to assure that your message is effectively delivered to this new audience.
Hire a designer. It might also be a good idea to hire a local designer who understands how this foreign market will interpret the colors, design, symbols, logo, and look of your exhibit. For example, one color might be considered lucky or prosperous in one country, yet might symbolize something completely different or have a negative connotation in another.
Check on technical and safety standards. Before you commit to a foreign show, make sure your products comply with international technical and safety standards, which may vary slightly from those in the U.S. Another important consideration is power requirements. When exhibiting overseas, your electrical equipment might need to be adapted to different power voltage outlets.
When in Rome… Things are done differently in other countries. Be sensitive to how business is conducted and how decisions are made in the host country. Read up on proper business etiquette, how the sales process typically works, and the nuances of relationship building there. In Japan, for example, a handshake at the end of a business meeting is as good as a signed contract.
Exhibiting at an international trade show can bring big benefits and open up an entirely new market for your company's products or services. A savvy planner, however, must do their homework well in advance.
Need Exhibit Management for your Trade Show? Let's Talk.
Making the decision to exhibit at a trade show is a significant commitment—in both time and expense—for any size company. Trade shows can deliver significant bottom-line benefits by generating valuable sales leads, increasing company awareness, launching new products or services, building brand recognition, finding new channel members and gaining media attention. In order to successfully achieve any of these, however, you must first select the right trade show for your company.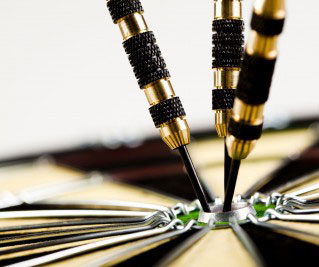 If you are the person tasked with this selection process, the burden is on you to make an informed decision, selecting shows that will deliver the right target audience for your marketing message. Here are a few questions to ask when evaluating your trade show options:
What are my goals? You first must determine your objectives for the show so you can choose the show that will give your company the best return on investment (ROI) in terms of your goals. If your goal is on-site sales, picking a show where there are dozens of competitors selling similar products will be a bust and a colossal waste of money.
Who will be there? Your first step will be to quantify the total number of relevant prospects, buyers, and influences who will be interested in your company's products or services. Obtain an Exhibitor's Registration Kit and look at the attendee profile of previous shows, including job title, industry representation, type of business, and geographical distribution.
Does size really matter? Bigger isn't really necessarily better. Really. The size of the show should match your goals sales leads, units sold, etc.). If you're a smaller company, it might be difficult to stand out at big trade shows, whereas at a smaller one you might be more noticeable. Smaller ones, however, won't generate the same high number of leads as larger shows so you'll have to weigh the pros and cons of both and how they relate to your overall objectives.
Will your competitors be there? Though you might not like competing for the same mindshare, the proximity of competitors in one place can be a boon for your business. Find out in advance which of your competitors are going to be there. This actually can help you formulate a winning strategy and effective marketing message specific to that show. What new products are you introducing? And, how and why are they better than your competitor's?
Is it the right choice? Though you'll never know for sure in advance whether a trade show is going to deliver a return on your investment, there are some ways to hedge your bets. Ask yourself whether this show is well aligned with the core competencies of your business or just one facet of its offerings? Is the right audience going to participate? Can my company stand out and be unique on the show floor?
What about media coverage? Ask for last year's press list. Do any of these publications reach your target customers? Do you have a compelling story to tell them? If so, this show might be a good fit.