Tradeshow exhibits can be packaged in a variety of ways including:
Crates
Skids or pallets
Molded plastic cases
Or no packaging at all, (pad wrapped)
Crates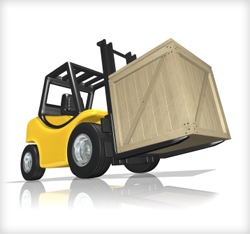 The vast majority of custom or modular trade show exhibits are packed in crates. Properly constructed crates reduce the likelihood of damage and can greatly enhance the useful life of the display. The downside of crates is the cost (usually around $1,500 each for average sizes) and the weight of the crates (around 300 pounds each). While properly designed crates will take full advantage of the space in a truck, their weight will add cost to shipping (if based on weight) and material handling. Crated displays can usually avoid the "special handling" fees charged for material handling.
Skids or Pallets
Skids are essentially crates without sides or a top. They are easily moved with a forklift and are commonly used when the items are too big or bulky to fit in a crate, e.g., structural beams, truss, furniture and rolls of carpet and padding. The disadvantages to skids are that they are difficult or impossible to stack, increasing storage and shipping costs, and they do not afford the protection that crates do. Skids do reduce shipping weight when compared to crates.
Molded Cases
Manufactured exhibit systems and portable displays often pack in molded plastic cases. In some instances, the cases are compartmentalized to secure the individual parts of the display. Manufactured displays break down into smaller pieces that lend themselves to being packed into these pre-engineered containers. They are much lighter than crates and are very durable. Some displays that are packed in multiple molded cases are then stacked on skids for ease of handling on the show floor.
Pad Wrapped
Some exhibits are shipped as individual pieces without crates or skids. The items are wrapped with packing pads and loaded into moving vans just like household goods are handled. This process adds considerable time to the packing, loading and unloading process and increases the likelihood of damage, but might be worth considering in some cases.
Trade show display packaging is not as simple as it might seem, as there are many variables involved in deciding which method will be most cost-effective. Your exhibit supplier should be able to describe how your exhibit is going to be packaged and why. A detailed cost comparison of each option, accounting for all potential areas of impact on cost, might be of value before you make a decision.
You're heading to the biggest trade show of the year. You've checked out your competition and your exhibit looks as good as theirs looks. You have last year's team back. Everything will be as good as it was last year. You are ready to make the most the show. But are you ready for the real competition? An audience that is totally and completely bored.
You Have Only a Brief Moment to Make an Impression at a Tradeshow! Attendees Only Recall 15% of the Displays Visited.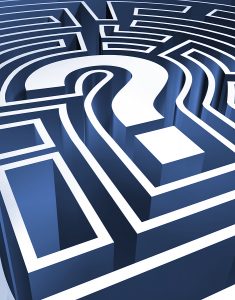 People are surrounded with so much slick mass entertainment, on-demand info, interactive experiences, and noise and hype that they have moved beyond oversaturation – they are now tuning most of it out. Trade show attendees – and your target customers – are a product of this environment. They quickly scan a booth and make a very rapid decision about whether to invest more time or effort in a visit. Now, you not only have to beat your competition, you need to capture the heart and minds of your prospects that are harder than ever to engage.
Studies have found that on average trade show attendees can only recall 10% to 15% of the displays they visited 24 hours later, but the most valuable customers remember over 40% of exhibits even a year later. That is the dilemma – the casual show attendees won't remember much but do not really matter; the high- value buyers probably remember what you did last year.
You have only one brief moment to make an impression. Do you want your target customers to see your trade show exhibit and think, "been there, done that"? (Don't forget – your most valuable prospects never miss a show and they saw your booth last year.)
So ask this simple question: When was the last time you changed the appearance of your exhibit?
If the answer is more than two years, pick up the phone and call the best trade show exhibit designer you can find (we can help!). If your booth was typically forgettable, it will look dated. If your booth was the star of the show, it will be unforgettable and remembered as last year's exhibit. No matter what, a dated exhibit will send the wrong message about your company and the wrong message about how you feel about the attendees of this show.
In this fast-paced, competitive world, trade show visitors want "new". That doesn't mean that you need a completely new exhibit, perhaps it just needs to be refreshed. But, now more than ever, it is important to show that your company understands how to succeed in this hyper-competitive marketplace.