Proper lighting is an essential component of your tradeshow booth and can help increase traffic and create a favorable environment in which to pitch your company's products. According to booth design expert, Bruce Baker, who's published articles on booth lighting, a good lighting system that functions at peak performance will boost sales more than any other item you can purchase.
Your lighting requirements will vary depending on your specific promotional goals, display configuration, exhibit color and design, booth lighting fixtures, and space. To determine what type of lighting will best create effective, creative exhibit illumination, you must carefully consider the following questions:
What area or product in your booth will need to be the focal point?
What visual impact, impression, or message do you want to convey through lighting?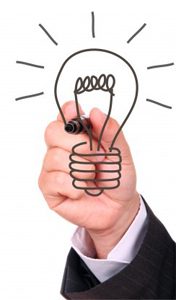 When you want to create a spotlight effect to highlight one particular area of interest in your exhibit, you might consider overhead truss lighting. If you'd rather create a more inviting, warm and welcoming atmosphere to make prospects feel more comfortable, you might select a soft lamp or ambient lighting.
Special illumination techniques can be used to create a more dramatic atmosphere that can possibly draw more attendees to your booth by setting it apart from competing booths. Determining the mood you want to create—exciting and dynamic or warm and inviting—will go a long way towards helping you determine the most appropriate lighting.
Other questions to ask when weighing your lighting options are:
What type of lighting is being supplied by the exhibition facility?
How much power will be available in your booth?
Would additional power be available, if your lighting needs require it?
How are light fixtures attached to your display?
How much can you spend on display lighting systems?
Once these questions are answered, you can go to your lighting supplier and find the best solutions for your particular needs. Good lighting can lead to increased booth traffic, additional sales leads, and possibly higher resulting sales, so choose wisely.