Next to the word portable, the word custom is the least clearly defined term in the trade show business. Marketers from various display companies add "custom" to almost every product description. It sounds good and makes it easier to justify high costs.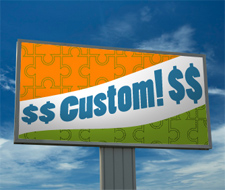 My definition of custom is something that is designed and constructed one at a time versus something that is engineered and mass produced. In general terms, display companies are either building displays one at a time or operating like a typical mass production company by designing products, doing the research and development and going into mass production.
So, what does this mean to the buyer? There are advantages to both types.
Traditional Custom Exhibit Company
Designers at a traditional custom exhibit company can allow their imaginations to run wild and (assuming there is enough budget) the shop can produce it. There is no need to try and fit the design into a certain type of construction material or system. These displays are mostly unique but may end up to be heavier and bulkier.
System Component "Custom" Exhibit Company
Designers at a system type of company do some pretty amazing designs but are generally limited to using components from a catalog. The advantages to using system components are that they are, in general terms, better engineered, lighter weight and packaged more efficiently. Cost differences between the two types are negligible.
So, now that you know the difference, what do you do? In my opinion, if you are using the exhibit at 5 or fewer shows per year, buy the best design from a reputable supplier. If you go to more shows, the engineering and packaging issues are more important.
Either way, don't be fooled by the word custom. Find out exactly how your display will be produced and make the choice that is right for you.
Combine Rental Items with Your Custom Tradeshow Booth and Save Money
Even if you have made the investment in a custom tradeshow booth and own your exhibit properties, it may make sense to explore the idea of renting additional items that you may need. Rental offers a cost-effective way to change or add to your tradeshow display to meet your specific requirements.
For example: an exhibitor normally reserves a small island booth space (20 x 20 or 20 x 30). They own a custom tradeshow booth and it serves them well in the 3 shows that they exhibit in annually in this configuration. However, they recently introduced a new product line that will debut at a major industry tradeshow. As a result, they plan to have several meetings with very important potential distributors for the new product line at the show. Providing a private area within the booth for these meetings is a necessity.
It was determined that the best way to accomplish these goals would be to use a double deck display. The upper level of the double deck would provide the space for these important private meetings without sacrificing valuable floor space.
The problem is that the cost of purchasing a multilevel structure would definitely blow the tradeshow budget. Instead, the exhibitor decided to rent an existing structure and surround it with the exhibit components that they already own.
Customize Trade Show Exhibit Rentals to Your Exact Specifications
This is just one example of combining rental items with purchased exhibits. Exhibitors frequently rent conference rooms, reception desks, workstations, towers and overhead signs. Finishes on rental items can be changed so that they match existing tradeshow booth materials.
This cost effective solution should always be a consideration when planning your tradeshow exhibit.
Need a piece to match an existing trade show booth? Want to expand your current concept? Starting from scratch, but know you won't be able to buy? We can help. Let's talk.