Most companies end up purchasing several kinds of displays to work for different types of events.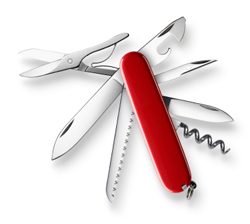 For small, local shows they have tabletop and standing displays, table covers in various sizes, and portable trade show stands. For larger spaces, they have modular displays. And for their "big show" they have a custom exhibit.
Now, some companies are asking a lot more from their trade show design firm. They want to invest in trade show exhibits that can be used for many types of events, will hold up to a lot of uses but still look new, and that can be easily updated for new shows. They are commissioning Multi-Purpose Custom Exhibits.
These companies are investing in large custom exhibits that are composed of components that can be used in smaller booths. In some cases, it is as simple as cleverly designing a large backwall so that a 10-foot section can be used in a small booth. In others, an elaborate custom space with stages, interactive displays, meeting area and merchandise fixtures is created for a large island booth at a major trade show. After the show, many of the components can be reconfigured to use for smaller exhibits.
Multi-Purpose Custom Design has financial benefits
The main motivation for moving to Multi-Purpose Custom Design is financial. Sometimes the initial custom display is a bit more expensive but most companies experience savings in the first year.
Brand consistency across all shows
Because all of the components for trade show displays are done at the same time, it is easier to maintain brand integrity. There is consistency in graphics, colors, copy positioning, and product displays.
How to start work on a Multi-Purpose Custom Design
Put together a list of all the shows on your Trade Show schedule along with planned booth sizes. Make sure to gather any special exhibit requirements. Determine how long the exhibit will be used. Is it for a year, or for longer? Define your marketing goals and how the exhibit will be tied into your company's overarching brand campaign. Then select a custom design firm that understands how to create Multi-Purpose Custom Exhibits.
Yes, it takes a bit more planning in the beginning but the benefits are worth the effort.