According to the Environmental Protection Agency (EPA), trade shows are the #2 producer of waste in the U.S., following the construction industry, a dubious honor indeed. So what can you do as an exhibitor to be more environmentally responsible? Though it would be difficult, if not impossible, to have a tradeshow exhibit that's is 100% sustainable, the goal of many companies is to move more in the "green" direction. Doing so might not be as difficult as it once was as many exhibit companies are now offering more and more sustainable exhibits.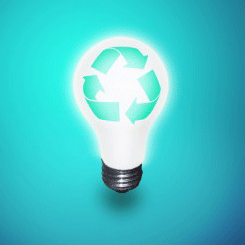 What makes it eco-friendly? Good question. Let's take a look at some of the options for companies wanting to create eco-friendly exhibits.
One way to reduce waste is to choose exhibits made from materials that are eco-friendly, meaning they are made of renewable, recycled and sustainable materials. The frames of exhibit systems can be made out of aluminum, which is 100% recyclable. Substrates, panels, banner stands can be constructed out of other recyclable materials, such as Sorghum, bamboo, PET plastic, cardboard, and biodegradable foam board.
Another huge energy waster is lighting. Choose LED lighting instead, which reduces energy usage by 90%. Exhibitors can even go green on the printing on displays by using low Volatile Organic Compound (VOC) inks and eco materials.
Lest we forget shipping, many exhibit companies are offering shipping cases that are made entirely of recycled plastic so the entire case can be recycled. These are also often very lightweight, again reducing the amount of energy, or carbon footprint, associating with shipping it.
Trade Show Display Lighting Can Make Your Booth Stand Out From The Competition
The explosion of LED lamps and fixtures onto the trade show display scene has changed the face of lighting going forward. Ten years ago, lighting companies' could not produce enough lumens from an led, whereas today, certain types of LED lamps and fixtures rival traditional incandescent in light output. Although this might be a reason to consider using led over traditional lamps, and, aside from their "green" technology for the "sustainable" people out there, there are just as many cons to consider.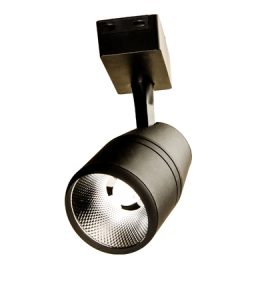 If you don't pack extra LED lamps and fixtures in your set-up kit, it might be very hard to replace them if something breaks. Sure, a local contractor or hardware store might have something similar, but with all of the product lines, and the variety of manufacturers out there, getting an exact match will be tough on the fly.
Advice: Pack an extra box of lamps, and a spare fixture if using LED.
It's amazing the reduction in energy consumed by LED over traditional incandescent or arc lamps. Couple this with the promise of "long Life" and you have what would seem to be an environmentally friendly "green dream" come true. Beware, all that glitters is not green. Or rather, all that is green does not glitter, at least not for long. What's this? Well, certain 100,000-hour lamps have a tremendous amount of light degradation over the life of the lamp. What "popped" and rendered beautiful color new, will fade and dim over time. So even though it may last 100,000 hours, you will certainly not want to use it after 40,000 as the lumens emitted fall, and the color rendering degrades dramatically.
Advice: Do a little homework, and don't buy the cheapest lamps.
There are many uses for LED lamps in a booth, however, understand, throw distances are still limited versus traditional spot or flood lamps. If you are lighting a jewelry case, or smaller product from a close distance, LED may work just fine to add that extra "pop". However, attempting to get a full wall wash or focus a spotlight from a distance will be tough if you try to wing it with LED. Understand the throw distance for a particular lamp before you specify it in a booth. Throw distance is the distance from the face of the lamp, to the item you are attempting to light. Also taken into consideration, should be the width of the lighting pattern, and light lost over the throw distance.
Advice: Don't just use LED thinking it is the panacea for all things green, understand what you are trying to light, and the impact LED may, or may not have.