A Positive Attitude Makes a Difference to the Exhibitors
A few weeks ago, I had an opportunity to supervise set up of an exhibit for one of my clients at the National Space Symposium in Colorado Springs. Now this is not a large show, and the exhibits aren't massive, but the show was pretty cool.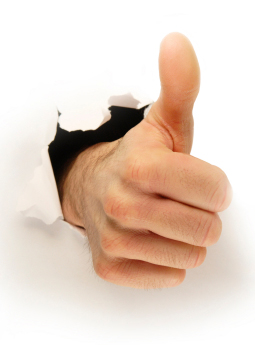 The products that were being shown were very interesting in their own right, and the fact that the show was held at the Broadmoor Hotel (a world famous 5-star facility) also contributed to the experience. I don't think the Broadmoor hosts very many trade shows, but in any case, this one has got to be the largest one they do host. The attendees are predominately military or government employees. The exhibit space is spread across two halls, but naturally, all of the exhibitors all want to crowd into the main exhibit hall.
While the hotel and the view of Pike's Peak is beautiful, in my opinion the most impressive thing about this show was the attitudes of the people working on the showfloor. As set up began, we were all crushed into the main hall. Moving a crate to get to the lid meant moving several crates. The general services contractor (Freeman) struggled to get crates delivered and empties removed. Even in the face of all these difficulties, there was very little stress. I had a problem with the rental carpet that caused a minor delay, which was corrected immediately. The spirit of cooperation and productivity was amazing. Everyone worked hard, was courteous and friendly, and offered to help without being asked no matter which company they were working for.
No one was walking the aisles telling us what we were and weren't allowed to do. The entire workforce seemed to be thankful for the opportunity to have the work and helped out whenever possible.
I am not sure why attitudes seemed so upbeat, but I can tell you that it makes a big difference to the exhibitors. As cities like Chicago try to find ways to retain trade shows, perhaps they should consider what they can do to change the attitudes of all workers on the show floor.
Warning
: file_get_contents(http://www.linkedin.com/countserv/count/share?url=http://alexisexhibits.com/know-your-trade-show-terms&format=json): failed to open stream: HTTP request failed! HTTP/1.1 404 Not Found in
/homepages/1/d100598707/htdocs/clickandbuilds/AlexisExhibits/wp-content/plugins/tk-social-share/tk-social-counter.php
on line
145
It's hard to walk the walk, when you can't talk the "talk" of the trade show world. We're making it easier on you by creating a free downloadable glossary of terms, containing all the terms you need to know to look like a pro at your next trade show.

Here are just a few of trade show terms you'll need to know to feel and sound like a real trade show insider:
Advanced Order- An order for show services sent to the contractor before actual move in.
Baffle- The partition to control light, air, sound or traffic flow.
Bill of Lading- Document or form listing goods to be shipped.
Blanket Wrap- Non-crated freight shipped via van line covered in protective blankets or padding.
Bone Yard- Equipment storage area at an exhibition hall.
Chevron- Type of cloth used for backdrops.
Consignee- The person to whom goods are shipped.
Corkage- The charge placed on beer, liquor, and win brought into the facility but purchased elsewhere. The charge sometimes includes glassware, ice, and mixers.
C.W.T.- Hundredweight- A measurement of the weight of exhibit freight. Usually 100 lbs.
Drayage- The unloading of your shipment at an exhibit hall, transporting it to your booth, storing and returning your empty crates and cartons, and reloading your shipment at the close of the show.
Duplex Outlet- Double electrical outlet.
Floater- Worker(s) used by a foreman to help assigned labor for short periods of time.
Foam Core- Lightweight material with a Styrofoam center used for signs, decorating, and exhibit construction.
Four-Hour Call- Minimum work period for which union labor must be paid.
I & D- Install and dismantle.
Infringement- Use of floor space outside exclusive booth area.
Marshalling Yard- Check-in area for trucks delivering exhibit material.
Pegboard panel- Framed panel of perforated hardboard. Pipe and
Drape- Tubing with drapes that separate exhibit booths.
Pro-Number- Number assigned by the freight forwarders to a single shipment; used in all cases where reference is made to the shipment.
Staging Area- Area adjacent to main event area for setup, dismantling, and temporary storage.
Stanchions- Decorative posts that hold markers or flags to define traffic areas. Ropes or chains may be attached.
Union Steward- On-site union official.
WARP, WEFT, & BIAS- The three ways fabric stretches, length, width and diagonal.
Yaw- Key stoning effect on a projection.
But wait, there's more. For a complete list of terms to know, download the FREE Glossary of Trade Show Exhibit Terms!
In difficult economic times, companies look closely at every expense.
When money is tight, they must decide whether it is still wise to allocate resources to areas that may have been a "no-brainer" in stronger markets. Naturally, marketing expenses are no exception, and trade show exhibiting can be a large portion of many companies' marketing budgets. The cost of logistics for tradeshow exhibiting (freight, drayage, setup, electrical, etc.) can be substantial. As a result, it will almost certainly be a candidate for the chopping block when executives start cutting back.
However, the decision to exhibit in a show is seldom based entirely on logistical costs. As long as advertised attendance figures are favorable, and the following items are true of a show, a company will find the funds to exhibit.
The company has something to show it's customers, both current and potential.
Their competitors will be attending.
Their biggest customers will be attending.
They may scale back their exhibit space, look at alternative ways to make a presence, or just complain about having to spend the money, but one way or another, they'll be there. It's a difficult reality, but in business, perception is important. When a company doesn't attend a major show, the first thing attendees think is that they must be either in dire straits financially, or that they had nothing to show, and therefore are not worth considering as a vendor. Companies must carefully consider all the potential areas of impact before deciding not to attend a show.
Looking for areas to trim your tradeshow exhibiting budget? Let's Talk.