Doing Basic Planning Makes Participation in a Trade Show More Profitable and Less Stressful.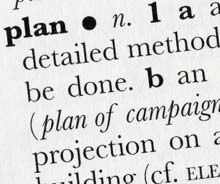 First ask yourself, what do you want from the show?
As you begin your planning process, be sure to understand why your company is spending the money to rent a space in the first place. Who will be attending? Which attendees are important to your company and why? What products do you have to show? What do you want to say to visitors to your booth? Gaining a clear understanding of these "strategic" goals is vital to helping everything else fall neatly into place. As such, decisions on design, graphics, product placement, staffing, etc. should all be made based on your overall show strategy.
Next, develop a timeline.
Most show manuals include a timeline or schedule of events. This is helpful for dealing with the logistical details, but you need to make a personal timeline to guide your planning. You will also need to deal with your tradeshow display, all graphics, literature and premiums, room and dinner reservations, the list goes on and on. The only way to keep all of this organized and still be able to sleep at night is to start with a timeline. The first one that you make will be very difficult and time-consuming, but with the groundwork laid, subsequent show timelines can be as easy as cut and paste.
Get some help.
Your exhibit company should be able to take most of the display issues off of your shoulders, but it is best to confirm things with them from time to time to make sure that they are on track. This will allow you to focus on the things that are more difficult to outsource.
Be sure to set internal deadlines.
Make sure that things that must be done internally are listed on your timeline and communicate deadlines well in advance to everyone involved. Often, one of the most difficult things for trade show managers to do is to get their own trade show booth shipped to the show on time. With that in mind, sometimes it makes sense to set an internal deadline that leaves you a week or so fudge factor just in case.
Brochures need to be ready to go well in advance. It may make sense to send your boxes of literature to your exhibit company so that they can ship them to the show with the display. This will allow you to check one more thing off of your list, and as an added benefit, it's one less shipment you'll have to track down on-site.
Develop a trade show timeline, check it several times a day, and work well in advance. It's not as easy as it might seem, but the payoff is well worth the effort.
Need trade show advice? Let's talk.
Ordering electrical service is one of the most difficult aspects of tradeshow preparation. Just when you think that you have watts figured out, the next electrical form wants you to order amps. Volts seem easy enough, but what the heck is 3 phase? How about 24 hour power? Seems like a good idea, but it doubles the cost of each connection.
Trade Show Electrical Service Preparation
For the vast majority of tradeshow exhibits, the electrical requirements are pretty straight-forward. For a 10' backwall exhibit, one standard minimum service outlet placed behind the booth will be all that is needed. If the plan includes a reception counter or table on the aisle, another minimum service outlet nearby will be handy to provide power to a lead retrieval device or laptop. As tradeshow displays get larger and more complex, it is advisable to have an electrical drawing. This is usually a simple display floorplan that shows exact placement of all electrical outlets and the required watts or amps for each. It is best to provide as much detail as possible. Most exhibit companies provide this service as part of their preparation procedure.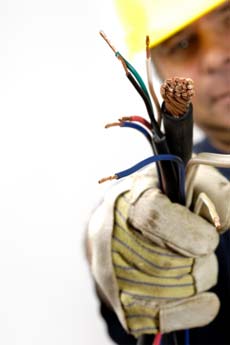 Once you have the electrical diagram, you can simply count the service outlets and fill out the form. Make sure to submit the form early enough to take advantage of any discounts.
Heavy duty electrical service such as 220 or 440 volts is used to power machinery. This type of service is very expensive and the order should be placed by someone who is very familiar with the equipment. Most convention centers turn off electrical service to displays at night. If you have equipment or computers in your exhibit that should not be turned off, or if you have refrigerators or freezers in your booth, you should consider ordering 24-hour service.
You will also need to provide the electrical diagram to the show electricians. They will use your electrical order and diagram to route extension cords on the floor to the locations specified. The diagram is normally sent in with the electrical order. If things change, be sure to provide the updated electrical drawing before you go to the show. The electricians typically go to work right after the booths are taped out on the floor.
A word about safety… One of the most common complaints heard from exhibitors is that they have to pay an electrician $90.00 to plug in their lights. While the cost does seem high, there is a very good reason for an electrician to make the connection. This process ensures that the electrician has an opportunity to inspect the wiring in your display. This may seem like a hassle, but keep in mind that on the night of January 16, 1967, while the biggest tradeshow of the year was hours from opening, a fire that was later traced to faulty wiring in an exhibit, burned Chicago's McCormick Place to the ground. One person died and economic loss included the building, all of the exhibits and products.
I'm sure you can agree, it's much better safe than sorry.
Does your exhibit company provide electrical service as part of their preparation procedure? Need help? Let's talk.