Warning
: file_get_contents(http://www.linkedin.com/countserv/count/share?url=http://alexisexhibits.com/break-all-the-rules-with-your-trade-show-exhibit-design&format=json): failed to open stream: HTTP request failed! HTTP/1.1 404 Not Found in
/homepages/1/d100598707/htdocs/clickandbuilds/AlexisExhibits/wp-content/plugins/tk-social-share/tk-social-counter.php
on line
145
There are times when the best way to make a visual statement is to break all the rules.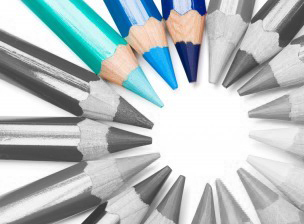 The "normal" best practice for trade show exhibit design is to make the color scheme consistent with the company's brand ID color palette. Since so many companies' color palettes are blue or red, many trade show floors are dominated by the primary colors – blue, red and yellow. If there are "green" products at the show, then add in some green-brown natural-colored booths to the mix. Breaking out of this pattern can make your booth stand out.
Creating a monochrome exhibit is one rule-breaking strategy that can be brilliant if it is well conceived and carefully designed – or a dismal failure if it is not executed flawlessly.
A monochrome color scheme is created in different shades of a single color. If a monochrome display incorporates dramatic shapes, lighting and/or carefully planned contrasting elements, it can be the most memorable exhibit of the show. But if there are no other design elements to create visual interest, it can be boring and attendees will just pass you by.
Does "monochrome" suit your company's brand personality and product?
A monochrome color scheme is great to use when innovation is a core part of your brand personality. It can be effective for positioning fashion-forward design and high-tech products but is inappropriate for most financial services, insurance, and healthcare products. It is also usually a poor choice if your company is known for products with a wide range of colors – whether it is fashion or candy or stock photography. But if a monochrome color scheme does fit your brand personality and your product, it can be a big win. For example, if you are promoting a new kind of pure water filtration system, then a completely clean, blue exhibit can make a bold statement about both your company and its products.
Will a one-color display stand out?
You want your trade show exhibit to stand out from a distance. Think about what other exhibitors are likely to do. To create visual impact with a monochrome exhibit, it is essential that it is a singular experience on the trade show floor. So if your designer proposes a monochrome exhibit, make sure that the approach is original. One entirely white exhibit could be exciting – two white exhibits are almost guaranteed to be boring.
Consider the scale of your exhibit
A monochrome color palette is most effective for mid-sized and large exhibits. In a small exhibit space, this is not often an effective design approach.
Incorporate other distinctive visual elements
When you limit the color palette to one dominant color, it is essential to compensate with other design elements that add visual interest. You can incorporate one bold graphic element that is the focal point. You can use dramatic lighting to add dimension to the visual presentation. You can incorporate distinctive display components into the display.
Monochrome trade show exhibits are rare, but when executed brilliantly, can be the most memorable exhibit on the trade show floor.
Graphics Are the Most Important Design Element of Your Trade Show Display
For the vast majority of tradeshow displays, the graphics are the most important design element. No matter how beautiful a display is, if you hang poorly designed graphics on it, it just looks awful. And attractive graphics aren't enough – they must be effective as well if you want to get the maximum ROI on your tradeshow dollars. In order to get the best graphic design results, you should start by carefully considering your objectives and how your tradeshow display's graphics might help you achieve them.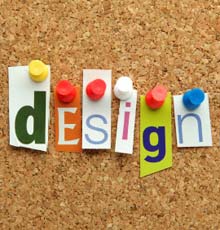 Too often, companies choose to just blow up their logo and a few of their magazine ads or a page from their website, stick them on the backwall and call it a day. People who view a web page or magazine ad spend considerably more time reading and also expect to get complete information from this type of graphic. Tradeshow graphics, on the other hand, need to be read and understood in the 3 seconds that it takes an attendee to walk past your booth.
Let's consider the graphics on a standard 10-foot backwall display. The normal way to arrange graphics is to put your company's name and logo on a large sign at the top. This is just fine if your company is Coca-Cola, or Nike, but lesser known brands might want to add a few words that describe what the company does or maybe a bold statement that grabs the attention of the visitor.
Design Graphics to Support Your Sales Presentation
The balance of the graphics in a small booth can be used to create an atmosphere, list features and benefits of products or show products in use. I prefer to design graphics that support a sales presentation. Once a prospect has stopped at your booth, the booth staff can easily do a brief sales presentation using the graphics as visual support.
Once you have established your objectives, it makes sense to take advantage of the experience an exhibit designer brings to the table. Share with them your goals and allow them to provide input on graphics that are going to be displayed.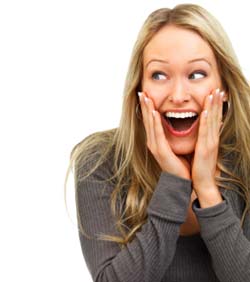 A trade show exhibit is a rare opportunity to surround your key prospects with your brand experience. An exhibit is not an impersonal 2-D experience like a TV commercial. It is not virtual and passively interactive like your company website. An exhibit can be a real 360-degree brand experience, alive with people and almost completely in your control.
When you invite key prospects into a 360-degree brand experience, your booth has a chance to be one of those few memorable moments from the entire show. And the exhibitors who create these memorable moments are almost always the show sales leaders.
Be true to your brand position and personality.
Make sure that you start out with a platform that is consistent with your brand position and personality. If you are a technology company, you can be playful and use a comic book superhero theme. On the other hand, the same theme is probably not appropriate for a health care benefits company who needs to establish credibility and trust. Similarly, if your company manufactures euro-design furniture, your booth can be sleek, experimental and minimalistic. But if your company makes traditional American style furniture with a focus on fine craftsmanship, your booth design should reflect that heritage.
"Surprise and Delight" your target customers.
To create a memorable moment with your booth, you need an overarching theme and concept that will surprise and delight your target customers. You are looking for something that will break out of the endless sea of logos, photos of smiling customers, and product images. Based on surveys of trade show attendees and exhibitors, the memorable booths are not the biggest booths, they are the ones that had one big idea and focused on it.
I can't give you a list of foolproof big ideas. You'll need to work with your team and exhibit design company to create the concept. I can pass on one secret – get your internal and external team members to think only about your brand and what would really "Surprise and Delight" your target customers. Don't be distracted by what your competition did last year or even what your company did last year. Brainstorm first, then evaluate the ideas once you have a list.
Once you have a concept, everything else will fall into place.
One unifying concept will pull everything together. If you have multiple products or divisions involved with the show, use the concept to unify everything. Make sure every aspect of the entire exhibit – accessories, product displays, signage and lighting – builds on the big idea.
And never forget: when it comes to a great trade show exhibit, less is more really applies. Focus relentlessly on your brand and your concept.