Most companies end up purchasing several kinds of displays to work for different types of events.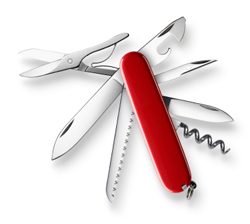 For small, local shows they have tabletop and standing displays, table covers in various sizes, and portable trade show stands. For larger spaces, they have modular displays. And for their "big show" they have a custom exhibit.
Now, some companies are asking a lot more from their trade show design firm. They want to invest in trade show exhibits that can be used for many types of events, will hold up to a lot of uses but still look new, and that can be easily updated for new shows. They are commissioning Multi-Purpose Custom Exhibits.
These companies are investing in large custom exhibits that are composed of components that can be used in smaller booths. In some cases, it is as simple as cleverly designing a large backwall so that a 10-foot section can be used in a small booth. In others, an elaborate custom space with stages, interactive displays, meeting area and merchandise fixtures is created for a large island booth at a major trade show. After the show, many of the components can be reconfigured to use for smaller exhibits.
Multi-Purpose Custom Design has financial benefits
The main motivation for moving to Multi-Purpose Custom Design is financial. Sometimes the initial custom display is a bit more expensive but most companies experience savings in the first year.
Brand consistency across all shows
Because all of the components for trade show displays are done at the same time, it is easier to maintain brand integrity. There is consistency in graphics, colors, copy positioning, and product displays.
How to start work on a Multi-Purpose Custom Design
Put together a list of all the shows on your Trade Show schedule along with planned booth sizes. Make sure to gather any special exhibit requirements. Determine how long the exhibit will be used. Is it for a year, or for longer? Define your marketing goals and how the exhibit will be tied into your company's overarching brand campaign. Then select a custom design firm that understands how to create Multi-Purpose Custom Exhibits.
Yes, it takes a bit more planning in the beginning but the benefits are worth the effort.
I attend a lot of trade shows – hardware, books, electronics, men's wear, food service, medical equipment, etc. – if there is a trade show, odds are I've probably been to it.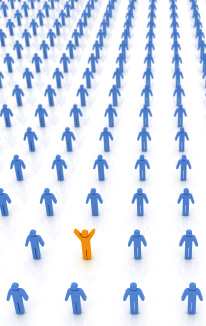 It's part of my job. Sometimes it is a delightful part of what I do – but all too often I can walk an entire trade show floor and not see one new, inspiring idea.
So far this year at the shows I have attended, I have found that most booths are professional looking and nicely designed but I often don't remember anything the minute I move on to the next aisle. The words that come to mind: boring, formulaic, and devoid of any discernable brand personality.
Everything is perfectly planned, so why aren't you more successful?
You have a great location for the show – right up front, with lots of traffic. You have a beautifully designed booth that is uncluttered and well-merchandised. You have great people who know that a positive attitude is essential. Yet people just keep passing by, and don't even slow down.
Ask yourself, why should someone stop at your booth?
Think about what it is like to attend this show or conference. After three hours of seminars and speeches, the conference attendees finally get a break. They enter the exhibit hall and are greeted with hundreds of booths and the din of people chattering, music and sales presentations. They quickly walk down the aisles and select a few booths to visit. What can you do to make your booth one of those stops?
Avoid being part of this "boring sea of sameness"?
Do something different and unexpected. Break out of the "just another trade show exhibit" pack. And do it in a way that sells your product and builds your brand. I know it is much easier said than done, but here are a few breakout ideas:
Entertainment: If it is appropriate to your overall message and product, hire a professional performer to be part of your booth but give it a twist. One small book publisher was promoting a new series of activity books include a book on juggling. They secured two booths located directly across from each other. Then they hired a two-person comedy juggler team who did a juggling show across the aisle. It was hard for anyone who saw this simple spectacle to pass them by without stopping. More importantly, it was hard to forget that the publisher had a juggling book coming out.
Create a place to "escape" from the show. Provide a place to really relax that gives you a sales opportunity. Many exhibitors provide comfortable seating or have conference tables with chairs for meeting with prospects or set up beverage bars with stools. This just creates a place to relax and avoid a sales message. Often it creates a place for your staff to sit where no one can see them. The breakout idea is to incorporate the escape into the overall sales message. A travel incentive company who promotes South Pacific Getaways created a tropical beach getaway with a couple real palm trees, some fresh exotic flowers, beach chairs and tropical beverages. They added ambient sound with tropical birds and waves and simple lighting effects. The staff was dressed in tropical business attire and was actively engaged in greeting people and answering questions – they were not relaxing at the beach, they were smiling, attentive and working all the time. It was the most popular place at the entire show. Everyone who entered received a "Tourist Guide and Passport" that provided information about the company's travel incentives.
Incorporate an interactive demonstration. Make your booth interactive and experiential by turning the sales process into an active, dynamic experience. It doesn't need to be a technological wonder and it should always involve 1-to-1 interaction between the sales staff and the prospect. Have something unusual for people to do, touch, smell or even taste. Bring your products to life with interactive demonstrations that focus on the key sales proposition. And if you do incorporate technology, make sure that it is not complete "self-service". A medical technology company used an Interactive 3D display to allow prospects to explore their product, zoom, see internal mechanics, and even go a simulated "test drive". The 3D simulation provided the company the opportunity to introduce key prospects to a very costly medical device but required some assistance from the booth staff so that there was a natural opportunity to start a dialog.
Everybody wins. If you are going to have a prize drawing, come up with something more enticing than a fishbowl for the entries and a random drawing sometime in the future when most of the entrants are already left the show. Attendees remember events, games, and competitions. One clever exhibitor created an "everybody wins" contest with thousands of prizes. Instead of being just another booth with a free logoed giveaway, they enticed people into entering their booth and spinning a gigantic wheel of fortune. Even most of the people who won the smallest prize – a promotional item with the company's name, website, and phone number – remembered the company because they won their prize.
Open and inviting. The simplest way to increase the effectiveness of your trade show marketing is to open up your booth. Get rid of the table across the front and get rid of any barriers. Eliminate all the clutter. Design your trade show exhibit for graphic impact with large, attractive images and clean, simple and bold elements that will draw one's attention. Add dramatic lighting and motion that welcomes people into your booth.
Have you seen any unique and enticing booth ideas that created buzz on the exhibition floor and attracted visitors?
Many organizations don't realize they can test the waters when it comes to tradeshow exhibits, renting before they commit to buy. For some companies, however, especially those that know they will be exhibiting multiple times throughout the year, buying might be the best and most cost-efficient option.
Let's take a look at some of the rationale behind why companies choose to rent over buying and vice versa. There are pros and cons to both approaches.
Why rent?
If your company has never before exhibited at a trade show or are fairly inexperienced with trade shows, you might want to consider renting the first time around. After your first experience, you'll have a much better idea of what your company's needs will be for future shows in terms of space, size, design, functionality, etc. You'll also have a better sense of whether participating in trade shows will help your company meet its marketing objectives.
Renting the first time will also give you the opportunity to check out what your competitors are doing as far as exhibits. You don't want to have the exact same booth as your competitor. Your company needs to stand out amidst the sea of competing exhibits to drive traffic and draw in prospective customers.
Another reason to rent may be that your company simply cannot reasonably afford to buy its own exhibit. Tradeshow booths can cost thousands of dollars, so unless your company has a proven track record of success at trade shows, it may be wiser to rent. Hopefully, after a few successful forays into trade shows, your organization will be able to financially justify the purchase of its own trade show booth.
Why buy?
If your company regularly exhibits at trade shows, even if it's twice a year, then it may not make sense not to own your own booth. Rental fees quickly add up, so if your company is committed to participating in multiple trade shows or events throughout the year, purchasing your own booth makes good financial sense.
Experience at past trade shows also means you have a solid understanding of what type of booth your company would require; overall footprint and layout, the size of actual booth space your company is reserving for each show, and overall type of design. Chances are you also have checked out your competition's trade show exhibits and know what your company will need in terms of its own booth to stand out.
Keep in mind that many exhibit companies will allow you to put the money you spend on a booth rental towards the ultimate purchase of a booth. In this way, renting before buying is a great way to experiment with different booth designs and see what works for your company before diving in and making the investment in your own tradeshow booth.