Every industry has its norms. At a medical industry show, the show floor will resemble a tranquil sea of blues and whites, colors that convey cleanliness and reliability. At technology industry shows you'll see lots of bright colors, bold graphics and eye-popping presentations on flat-screen monitors. While every industry has its norm, the reality is that in order to make your booth get noticed by attendees, the last thing you want to do is to blend in with competing booths.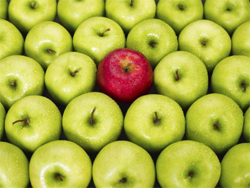 So how do you differentiate your exhibit so attendees will be captivated long enough for your booth staff to engage them and deliver your company's marketing message? In order to successfully achieve your company's trade show objectives, whether that is generating sales leads or educating a new market about your products or services, the first step is to garner the attention of prospective customers.
Many companies exhibiting at trade shows make the classic mistake of trying to fit in with other exhibitors. Perhaps it's your company's first foray into a particular market or event. You want your company to look like it can play in the same sandbox with other big players in the market. The problem is fitting in isn't going to help your company stand out amidst its competitors.
Here are a few ways in which you can differentiate your company's exhibit:
Color: Avoid the standard color palette of the industry. Choosing a unique color scheme for your booth is a simple way to visually set your booth apart from other booths. Be careful, however, and do your research before picking a color scheme. Different colors convey certain messages that might not align with your trade show objectives or your marketing message.
Structure: Be creative here, and don't settle for a standard exhibit configuration. If your competition typically uses a booth layout with formal meeting areas/rooms, go for a casual lounge feel instead. If competing booths are very geometric and angular, go for a free-flowing, airy feel with a fabric structure featuring organic shapes and soft, curvy lines.
Lighting: One way to breathe new life into an older exhibit is to enhance or change up the lighting scheme. Be creative here as well. Colored lights can add pizzazz and be a real attention-getter. Soft lighting can create a calm, intimate setting.
Product Displays: Don't overcrowd surfaces with product displays. Again, take note of what your competitors are doing. Use creativity to highlight your products in a way your competitors aren't. Again, the purpose is to get your booth to stand out so attendees will pause long enough to notice your products and marketing message.
Booth staff: It's important to put together a "front line" offense when it comes to your booth staff. Don't staff your booth with temp workers or new employees. Bring out your "big guns," which typically means your product development folks who can speak at great length—not just about your products, but those of your competitor's and industry pain points as well.