Signage at Tradeshows: How Big is Too Big?
All companies that exhibit at tradeshows want their name to be the most prominent in the convention center. At large shows with hundreds of exhibits this is obviously not possible. When you walk into the exhibit hall, you are confronted with sea of visual clutter. So what is the correct approach to signage in your booth?
Consider this:
Exhibit signage breaks down into 3 basic categories, long, medium and short range graphics. Each of these categories serves a practical purpose.
Long Range Graphics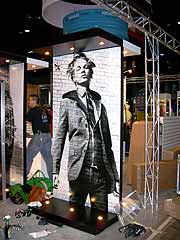 These are most often corporate identification graphics. In island or peninsula displays, they can be large signs that are placed at the maximum height allowed by the show. They are sometimes suspended from the convention center ceiling (where permitted) or can be supported from the floor on tall columns. The purpose of long range graphics is to allow visitors to locate your exhibit from the entrance of the hall or at least from several aisles away. Most companies want these signs to be as large as possible, so they can't be too big. When every exhibit has these large signs, they lose their effectiveness. Sometimes adding lighting or rotating the signs will add interest. These types of signs are generally not permitted in backwall displays.
Medium Range Graphics
As visitors get closer to your exhibit, it is important to show them who you are and what you do. At 20 feet away from an island booth, the visitor would need to look straight up to read your large overhead sign, so medium range graphics should include your corporate identification. Individual product names and informative tag lines are appropriate at this level. In smaller displays, medium range graphics are the only corporate identification and should clearly state who you are and what you do. Medium range graphics should be large enough to be read from a reasonable distance but not too large to interfere with the exhibit design. They should be positioned at or just above eye level.
Short Range Graphics
Signs of this nature include any graphic that can only be read while standing in or very near the display. They usually include product or brand identification signs and can include more detailed information since you are conveying information to interested attendees, not trying to lure them to your display. Features, benefits, specifications and installation examples are perfect for short range graphics. These signs do not need to be very large and should be placed just below eye level for ease of view.
While these are very basic guidelines, they will result in well-designed, effective and cost effective exhibits.
Need a unique and effective tradeshow booth idea? We can help you create a custom trade show exhibit that creates a buzz about your brand and increases your booth traffic, all within your budget. Let's Talk.