Putting the Show back into Trade Show Exhibits!
ExhibitorOnline published a case history about a trade show exhibit that brilliantly executed a complete 360 degree trade show exhibit. The exhibit was presented by PayLock LLC, a manufacturer of a self-release car-booting system called the SmartBoot at the International Parking Institute Conference & Expo (IPI) in Las Vegas.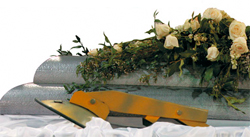 Since the company's 2004 launch, PayLock's president, Cory Marchasin, hoped to snuff out traditional car boots. "My partners and I acquired a car-boot company in 2004, but rather than continue with this traditional technology, we looked for ways to develop a competitive edge and differentiate ourselves from the competition," Marchasin says. "As part of our creative process to build a better boot, we decided it wasn't actually the product that needed refining so much as it was the business process itself. Traditional boots and the process associated with them just didn't seem to make sense anymore."
PayLock decided to bury competing products with a funeral-based booth theme. Their exhibit including everything from in-booth caskets to after-hours wakes, PayLock's "morose strategy used dead-pan humor to rub out the competition — and slay its own expectations in the process." Here are a few highlights:
The entire trade show exhibit and program was infused with product messages and tongue-in-cheek tactics to keep the laughs coming.
Pre-show promotion: An obituary for the traditional boot ran in the show directory, available starting the day before the show opened.
Two memory boards with images of the traditional boot and the paper permit paid homage to the Smart-Boot's "deceased" competitors.
Following the show's ribbon-cutting ceremony, PayLock pallbearers hoisted the coffins onto their shoulders and led a processional to PayLock's booth. A five-piece jazz band accompanied the processional, recreating a New Orleans-style funeral march.
The two coffins were positioned near the back of the exhibit. Monitors above the coffins displayed the time of the next funeral presentation along with whimsical images during the eulogies.
Tissue boxes, black carpet, and casket sprays adorned the surreal 16-seat in-booth funeral parlor.
PayLock staffers read the eulogy, which explained the traditional boot's fate through excerpts from the traditional boot's journal. Attendees that read pre-scripted eulogies of their own were entered into a drawing for an iPad.
After the funeral, the bereaved filed past the caskets to pay their respects and collect free T-shirts.
The exhibit was not a hit with competitors, but was very popular with show attendees, and, most importantly, generated a lot of qualified sales leads. The most impressive aspect of this exhibit was how it seamlessly integrated the company's sales message into an unlikely and memorable branded event.
You can read the entire case history at ExhibitorOnline.com, click here!