How to Make Exhibits Eco-Friendly
According to the Environmental Protection Agency (EPA), trade shows are the #2 producer of waste in the U.S., following the construction industry, a dubious honor indeed. So what can you do as an exhibitor to be more environmentally responsible? Though it would be difficult, if not impossible, to have a tradeshow exhibit that's is 100% sustainable, the goal of many companies is to move more in the "green" direction. Doing so might not be as difficult as it once was as many exhibit companies are now offering more and more sustainable exhibits.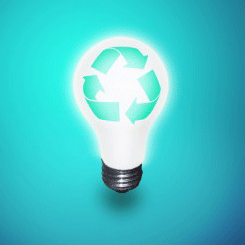 What makes it eco-friendly? Good question. Let's take a look at some of the options for companies wanting to create eco-friendly exhibits.
One way to reduce waste is to choose exhibits made from materials that are eco-friendly, meaning they are made of renewable, recycled and sustainable materials. The frames of exhibit systems can be made out of aluminum, which is 100% recyclable. Substrates, panels, banner stands can be constructed out of other recyclable materials, such as Sorghum, bamboo, PET plastic, cardboard, and biodegradable foam board.
Another huge energy waster is lighting. Choose LED lighting instead, which reduces energy usage by 90%. Exhibitors can even go green on the printing on displays by using low Volatile Organic Compound (VOC) inks and eco materials.
Lest we forget shipping, many exhibit companies are offering shipping cases that are made entirely of recycled plastic so the entire case can be recycled. These are also often very lightweight, again reducing the amount of energy, or carbon footprint, associating with shipping it.