Have Marketers Stretched the Definition of Portable Displays?
Portable is a crazy term when used as a description of a trade show exhibit. If I asked my wife (an English teacher) to describe a portable display, she would probably say "a display that can easily be carried around by one person". In the real world of trade shows, marketers of portable displays have stretched that definition considerably.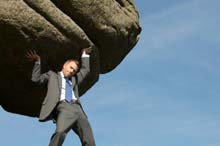 A while back, I had the opportunity to deliver a demonstration display to a prospective client who was considering the purchase of several units. The only way that I could transport the cases for this 10' display was to strap one of them to the top of my midsized SUV! Needless to say, the client questioned the portability of that particular unit. Fortunately, every other display that met her needs packed in multiple cases with wheels and weighed about the same so we had many better options, but sometimes lessons are learned from bad as well as good.
For most trade show marketers, the only truly portable displays are pop-up displays and banner stands. (I'm sure that I will hear from many of my friends on the portables side who disagree with me on this). That having been said, a 10' popup display collapses and packs into a case that resembles a large trash can with wheels and weighs in at just under 100 pounds. There are probably at least 30 different brands that are all very similar but none of them can be easily carried around by one person. There are also trade show booth accessories that can be added to provide shelves, literature racks, lights, etc.
Banner stands are very popular but they are usually about 3' wide, and when you put a few of them in a standard booth space, in my opinion, it's not a very professional look. There are various other types of portable displays that pack into smaller cases but they can limit your ability to interchange graphics and may be less durable over time.
The moral of the story: If you're in the market for a portable display, do some research and find a unit that suits your needs. Make sure that you look at the shipping cases and consider whether the size and the weight make sense for you. Need Help? Let's Talk.