The fundamentals of effective trade show displays boil down to your story, your staff, and your execution. Before and during the show, there will be plenty of distractions or gimmicks at other booths, but if you relate to your audience and to the context of the broader show, you won't get lost in the din of the event.
The Best Story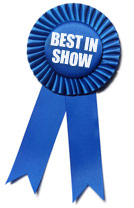 The best trade show displays tell a story—your story—clearly and engagingly. Vagaries, misdirection or over-generalized displays won't do you or your brand justice. You have to assume that visitors have already been annoyed by other booths that take too long to understand. This doesn't mean that you have to be boring or robotic in presenting your brand, but it should be relatively straightforward for people to ascertain your basic mission and offerings in about a minute. A clear and upfront story buys you time to expound on your latest projects, rather than clearing up confusion over the basics.
The Best Staff
Send some members of your staff around the show floor to explore other trade show displays. In this way, you're taking advantage of your presence at the trade show by learning things you can only learn by actually being there. Pay particular attention to your competitors, of course. It'll make the investment in the show that much more valuable.
When you're knowledgeable about other displays, you can also anticipate visitors' reactions, preempt their questions and explain how your services are different or superior to those of others on the floor.
The Best Technology
Remember that a trade show is powerful, old-fashioned, offline interaction. Even if you decide to use screens, computers or other gadgetry for demos, the particular presentations should be unique and unlike anything that a visitor can easily view online at home. At the same time, visitors to your display should be eager to go home and check out your site. The show doesn't end when you pack up the display. If you present yourself right, it's only the beginning.