Study the show's attendees – know how many are expected and which ones represent prospects for you.
Know your position in the convention center – the location of your booth as related to the main entrance, the largest exhibits, food and beverage areas or anything else that is likely to impact attendee behavior.
Think about both long and short range corporate identification – how will prospects find you, and how will they know who you are when they are standing in front of your booth?
Consider an activity to attract attention – live demonstrations, presentations or other booth activities will cause people to stop and watch.
Imagine an important prospect approaching your booth – What will they see? How will they be greeted? How much time will they want to spend with you? How will you record their information for follow up?
Think about the sales process – your booth graphics can be arranged to assist and guide the sales presentation process.
Consider the image that you want to project – make a list of adjectives that describe your corporate image.
Think about the practicalities – presentation stations, storage of briefcases, utilities, meeting areas, video, etc.
Come up with a budget – Not only a number but also what it should include.
Look for photos – Find some images that are examples of booths you like. Be sure to indicate what it is you like about each particular photo.
Thinking about and preparing these things before you contact an exhibit designer will make the process much easier and more efficient. Best of all, with the right preparation, you'll end up with a design that fits your style and meets your needs!
Trade shows have always been great PR opportunities because they get press coverage. For decades, companies have used trade shows to make major announcements or introduce new products. Usually, these announcements get more press coverage than they would ordinarily get because reporters covering the shows are looking for news.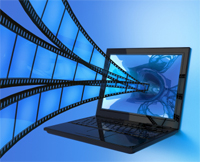 For the past few years, companies have been extending their news reach by using social media platforms such as Facebook or Instagram to provide live online video of company announcements, news conferences, trade show product demonstrations and other events directly from the trade show floor. All of these platforms incorporate live chat that can be used for "Q and A" sessions between company representatives and reporters, bloggers or the general public.
Now, some companies are cleverly reversing their trade show live streams to bring their entire company to the trade show. Some connect trade show attendees to company executives or technical representatives for live chat events. Other exhibitors are incorporating live feeds of their manufacturing facilities or service centers into their exhibits. The variety is almost endless.
Be Creative
Don't limit your imagination about how to use live online video. Live video streams can be a great way to promote your exhibit before the show. It can be a great way to present highlights of a show when it is all wrapped up. Live video of product demonstrations and testimonials from the trade show floor can be powerful at generating online sales while the show is going on. If a company representative is making an important presentation at a show, consider how you can use online video of this presentation to promote your company and products.
Consider providing a show cam to your entire team "back at the office" or in the field
Live video can keep your entire company involved with the show. Think about running a daily live stream program from the show just for your company's staff. It can be as simple as a daily wrap up of the big events from the show and observations of what the competition is up to.
Don't push the boundaries of the technology too far
Technology can be great but it is no substitute for the live one-to-one contact that trade shows make possible. Make sure that your company is well represented by the people staffing your exhibit.
Plan for everything to go wrong
Live online video can be great but it is not always reliable. Make sure that you coordinate any live stream plan with the show staff and your tech support team. Test everything in advance, and then test it again. Make sure you have a contingency plan and that the live video broadcast is just a plus to your overall promotion and PR plan. The best way to have things go smoothly is to plan for problems.
Have you ever incorporated a live streaming video into your trade show sales effort?
I attend a lot of trade shows. The exhibits are cluttered and sometimes overwhelmed by banners. There is so much stuff that nothing stands out. Most exhibits have no drama. The few that stand out often have brilliantly designed back walls.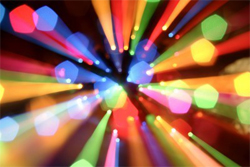 When I design an exhibit, the first thing I think about is how to make a big, powerful graphic statement. For small- to mid-sized booths, it often comes down to creating a brilliant back wall and making it the focal point of the entire exhibit.
Here are a few tips for a brilliant back wall
Make a color statement: Use bright colors and a limited palette. Generally, feature two or three colors. If you are using color photography, select or modify photos to create a focal color.
Keep it simple: Make the design visually arresting but simple.
Eliminate clutter: Do not put anything on or in front of the back wall that isn't essential.
Integrate everything with the back wall: Make sure that the other components of your exhibit are compatible with your back wall. If you have a small exhibit, look for ways to incorporate displays, storage, literature racks and even video monitors into your back wall.
A back wall does not need to be flat. Incorporate curved panels and other 3-D elements into your back wall to create the illusion that your booth is bigger than it really is.
Fill it with products: Incorporate displays, clothing racks and product showcases to make your back wall more than a graphic backdrop.
Add unusual materials: Some of the most eye-catching back walls incorporate live plants.
Lighting really matters: Use backlit signs and displays, pinpoint spots and other light effects to create visual interest and highlight the most important graphic elements of your exhibit.
Nothing about your exhibit should be ordinary but an ordinary back wall is a big missed opportunity.