Finding the perfect vendor to support your tradeshow program can be challenging, and there is no one-size-fits-all solution, but with the right things in mind, you can hit your target. As with any other decision, the preparation you put into it will greatly affect your level of success.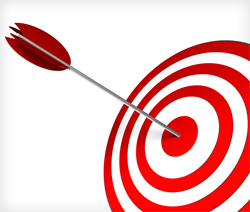 Typically, the decision for an exhibit supplier is made during the purchase of a new display. It may seem logical that the company that built the display would be the best choice to manage it. Sometimes that may be true, but often the problem is that the companies that do the best job of design and presentation are not always the best at program management. Their company's focus might be on designing and building new exhibits, leaving program management to take a back seat.
A good start in your search is determining how much help you will need, and the size of your program:
Pharmaceutical companies might exhibit in over 100 shows per year, not including other events that are a large part of their face to face marketing. Auto manufacturers exhibit in 65 or more shows in the span of a few months. These types of companies usually prefer to deal with the largest exhibit companies.
Companies that participate in fewer shows each year in smaller configurations may not get the level of service that they need from a huge exhibit company, and often end up being the proverbial "small fish in a big pond."
In order to find the best match for your needs, give some thought to how much support you will need from your exhibit company. Some companies need only basic assistance, such as storage, preparation and minor repairs. Others rely more heavily on an exhibit company to handle the entire show including show services, graphic design, shipping, etc. Be sure to consider how important your scale of business will be to your new vendor and whether you will have access to senior management in the event that problems occur.
While experience in your specific industry is a valuable thing, use caution in looking for a company that has several other clients in your most important show, as you may find that they are stretched too thin to provide the best service. Also, there are many other factors that contribute to the success of a vendor/client relationship, but a vendor's efforts to become the best partner should always involve a willingness to listen and adapt to the client's preferred ways of doing business.
Are you considering changing tradeshow vendors? Let's Talk.
Next to the word portable, the word custom is the least clearly defined term in the trade show business. Marketers from various display companies add "custom" to almost every product description. It sounds good and makes it easier to justify high costs.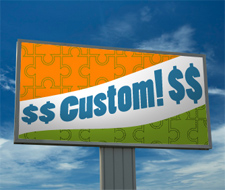 My definition of custom is something that is designed and constructed one at a time versus something that is engineered and mass produced. In general terms, display companies are either building displays one at a time or operating like a typical mass production company by designing products, doing the research and development and going into mass production.
So, what does this mean to the buyer? There are advantages to both types.
Traditional Custom Exhibit Company
Designers at a traditional custom exhibit company can allow their imaginations to run wild and (assuming there is enough budget) the shop can produce it. There is no need to try and fit the design into a certain type of construction material or system. These displays are mostly unique but may end up to be heavier and bulkier.
System Component "Custom" Exhibit Company
Designers at a system type of company do some pretty amazing designs but are generally limited to using components from a catalog. The advantages to using system components are that they are, in general terms, better engineered, lighter weight and packaged more efficiently. Cost differences between the two types are negligible.
So, now that you know the difference, what do you do? In my opinion, if you are using the exhibit at 5 or fewer shows per year, buy the best design from a reputable supplier. If you go to more shows, the engineering and packaging issues are more important.
Either way, don't be fooled by the word custom. Find out exactly how your display will be produced and make the choice that is right for you.