In a grocery store or other retail shops, it is very desirable to have your product placed on an "end cap" (the very end of an aisle). This position provides a great deal more traffic, keeps you from being right next to your competition, and has been proven to increase sales.
Many marketing managers take this experience in retail and put it to use in selecting exhibit space at a trade show, choosing "end cap" spaces, or "peninsula booths" in trade show jargon. This is not always a wise decision. If you look closely at the floor plan of a trade show, you'll see that the vast majority of these spaces face cross aisles. Most cross aisles are not a great choice for traffic. Attendees typically use cross aisles to get from one main aisle to another, which means they are looking towards their destination and may completely miss your display.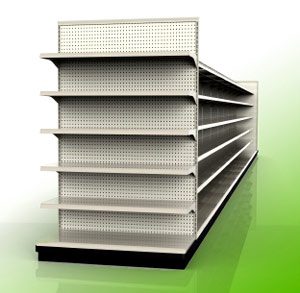 Another consideration is the display restrictions that apply to peninsula booths. Most of these spaces are 20′ x 20′. Standard tradeshow booth space rules provide for a 5′ line of sight area along main aisles. This means that you cannot install displays over waist high within 5 feet of an aisle that is adjacent to another exhibit. In the case of a peninsula booth, you will lose about a quarter of your exhibit space because of this restriction. This needs to be considered as you design your booth and may mean that you will be unable to use some or all of your existing display.
The best thing to do is to carefully review the tradeshow rules before selecting an exhibit space. In my experience, you should select a space based on where you think you'll get the most traffic, and while it might, the end cap doesn't always come out on top.
Tradeshow exhibits can be packaged in a variety of ways including:
Crates
Skids or pallets
Molded plastic cases
Or no packaging at all, (pad wrapped)
Crates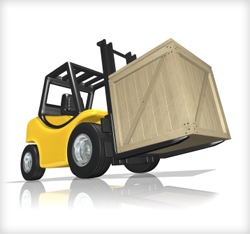 The vast majority of custom or modular trade show exhibits are packed in crates. Properly constructed crates reduce the likelihood of damage and can greatly enhance the useful life of the display. The downside of crates is the cost (usually around $1,500 each for average sizes) and the weight of the crates (around 300 pounds each). While properly designed crates will take full advantage of the space in a truck, their weight will add cost to shipping (if based on weight) and material handling. Crated displays can usually avoid the "special handling" fees charged for material handling.
Skids or Pallets
Skids are essentially crates without sides or a top. They are easily moved with a forklift and are commonly used when the items are too big or bulky to fit in a crate, e.g., structural beams, truss, furniture and rolls of carpet and padding. The disadvantages to skids are that they are difficult or impossible to stack, increasing storage and shipping costs, and they do not afford the protection that crates do. Skids do reduce shipping weight when compared to crates.
Molded Cases
Manufactured exhibit systems and portable displays often pack in molded plastic cases. In some instances, the cases are compartmentalized to secure the individual parts of the display. Manufactured displays break down into smaller pieces that lend themselves to being packed into these pre-engineered containers. They are much lighter than crates and are very durable. Some displays that are packed in multiple molded cases are then stacked on skids for ease of handling on the show floor.
Pad Wrapped
Some exhibits are shipped as individual pieces without crates or skids. The items are wrapped with packing pads and loaded into moving vans just like household goods are handled. This process adds considerable time to the packing, loading and unloading process and increases the likelihood of damage, but might be worth considering in some cases.
Trade show display packaging is not as simple as it might seem, as there are many variables involved in deciding which method will be most cost-effective. Your exhibit supplier should be able to describe how your exhibit is going to be packaged and why. A detailed cost comparison of each option, accounting for all potential areas of impact on cost, might be of value before you make a decision.
According to the Environmental Protection Agency (EPA), trade shows are the #2 producer of waste in the U.S., following the construction industry, a dubious honor indeed. So what can you do as an exhibitor to be more environmentally responsible? Though it would be difficult, if not impossible, to have a tradeshow exhibit that's is 100% sustainable, the goal of many companies is to move more in the "green" direction. Doing so might not be as difficult as it once was as many exhibit companies are now offering more and more sustainable exhibits.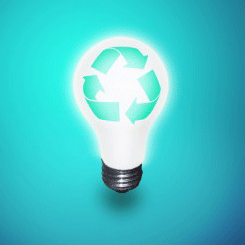 What makes it eco-friendly? Good question. Let's take a look at some of the options for companies wanting to create eco-friendly exhibits.
One way to reduce waste is to choose exhibits made from materials that are eco-friendly, meaning they are made of renewable, recycled and sustainable materials. The frames of exhibit systems can be made out of aluminum, which is 100% recyclable. Substrates, panels, banner stands can be constructed out of other recyclable materials, such as Sorghum, bamboo, PET plastic, cardboard, and biodegradable foam board.
Another huge energy waster is lighting. Choose LED lighting instead, which reduces energy usage by 90%. Exhibitors can even go green on the printing on displays by using low Volatile Organic Compound (VOC) inks and eco materials.
Lest we forget shipping, many exhibit companies are offering shipping cases that are made entirely of recycled plastic so the entire case can be recycled. These are also often very lightweight, again reducing the amount of energy, or carbon footprint, associating with shipping it.