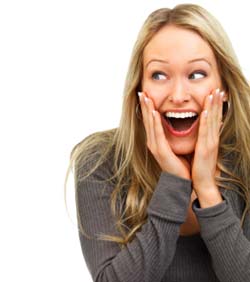 A trade show exhibit is a rare opportunity to surround your key prospects with your brand experience. An exhibit is not an impersonal 2-D experience like a TV commercial. It is not virtual and passively interactive like your company website. An exhibit can be a real 360-degree brand experience, alive with people and almost completely in your control.
When you invite key prospects into a 360-degree brand experience, your booth has a chance to be one of those few memorable moments from the entire show. And the exhibitors who create these memorable moments are almost always the show sales leaders.
Be true to your brand position and personality.
Make sure that you start out with a platform that is consistent with your brand position and personality. If you are a technology company, you can be playful and use a comic book superhero theme. On the other hand, the same theme is probably not appropriate for a health care benefits company who needs to establish credibility and trust. Similarly, if your company manufactures euro-design furniture, your booth can be sleek, experimental and minimalistic. But if your company makes traditional American style furniture with a focus on fine craftsmanship, your booth design should reflect that heritage.
"Surprise and Delight" your target customers.
To create a memorable moment with your booth, you need an overarching theme and concept that will surprise and delight your target customers. You are looking for something that will break out of the endless sea of logos, photos of smiling customers, and product images. Based on surveys of trade show attendees and exhibitors, the memorable booths are not the biggest booths, they are the ones that had one big idea and focused on it.
I can't give you a list of foolproof big ideas. You'll need to work with your team and exhibit design company to create the concept. I can pass on one secret – get your internal and external team members to think only about your brand and what would really "Surprise and Delight" your target customers. Don't be distracted by what your competition did last year or even what your company did last year. Brainstorm first, then evaluate the ideas once you have a list.
Once you have a concept, everything else will fall into place.
One unifying concept will pull everything together. If you have multiple products or divisions involved with the show, use the concept to unify everything. Make sure every aspect of the entire exhibit – accessories, product displays, signage and lighting – builds on the big idea.
And never forget: when it comes to a great trade show exhibit, less is more really applies. Focus relentlessly on your brand and your concept.