Warning
: file_get_contents(http://www.linkedin.com/countserv/count/share?url=http://alexisexhibits.com/how-to-make-your-trade-show-booth-stand-out&format=json): failed to open stream: HTTP request failed! HTTP/1.1 404 Not Found in
/homepages/1/d100598707/htdocs/clickandbuilds/AlexisExhibits/wp-content/plugins/tk-social-share/tk-social-counter.php
on line
145
Exhibiting at a trade show is a marvelous way for your company to capture the attention of its target market in order to introduce a new product or service, generate valuable sales leads, get media attention, or sell products. Garnering that attention, however, can be tricky when your booth is amid hundreds of competing booths, each staffed with eager employees trying to grab the often-fleeting interest of passing attendees.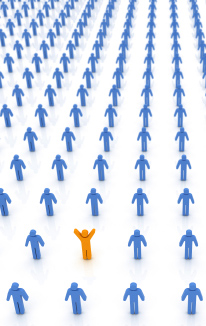 So how do you make your exhibit stand out? Research shows that exhibitors have mere seconds to grab the attention of attendees, often weary and overwhelmed by the vast number of booths. You can't meet your tradeshow objectives unless you get those folks in your booth to hear your pitch, so exhibitors must always be on the lookout for new and creative ways to make their exhibit stand out.
One way is to walk the show floor and take note of what other exhibitors are doing with their trade show exhibits and displays. Notice what types of marketing strategies they are using to attract booth traffic. Also, pay attention to what booths seem to be drawing in the largest number of attendees. Is there an enticing giveaway drawing in hordes of people? Ask attendees that have stopped in your booth which exhibitors' booths they were most drawn to and why.
Leverage your relationship with your display provider as well. They often can offer specific expertise on what has proven successful for other customers as far as boosting traffic. It is their job to stay on top of the latest in exhibit design, event strategies and promotional trends.
Another potential source of innovative ideas are trade show associations and industry consultants. The Center for Exhibition Industry Research (www.ceir.org) is another great resource for ideas on how to increase your tradeshow exhibit's visibility. Once you have developed some new strategy ideas to boost booth traffic, lead generation and possibly sales, just make sure they all align with your company's brand positioning.
Here are a handful of promotional ideas to draw in visitors to your booth:
Entertain them. Magicians, caricaturists, and celebrity look-alikes are sometimes cheesy but often effective in grabbing the interest of attendees, giving your booth staffers an opportunity to strike up a conversation.
Photograph them. Take a digital photo of visitors and superimpose them on unique backgrounds, such as magazine covers to create a memorable takeaway. Or use the image to perform a virtual makeover, so visitors can see what they would look like in various hairstyles or clothes.
Let them play. Provide a chance to play virtual sports, such as golf or baseball using simulation software systems. Winners take away balls with your logo printed on them.
Feed them. Weary and often hungry trade show attendees tend to flock to booths offering free food, coffee or beverages. While they are munching or sipping, make sure your booth staffers introduce themselves and give them the two-minute pitch.
Reward them. Offer an incentive to stop by your booth. A creative giveaway— with your logo and marketing slogan on it—could include tote bags, laser pointers, memory sticks, apparel, golf tees, pens, coffee mugs, etc.
Give us the opportunity to help you find the best way to stand out on the show floor, among other things – we are confident that you'll respond in much the same way as these happy clients attest.