Tension fabric displays have many advantages; they are portable, easy to set up, affordable and inexpensive to update. Many exhibitors have switched to fabric graphics because they eliminate the possibility of glare or scratched, marred finishes. Other exhibitors appreciated the contemporary look that can be achieved with fabric graphics. With all the advantages of using tension fabric, it is no wonder that it has rapidly become commonplace. Unfortunately, commonplace can also become boring on a trade show floor.
Designers get creative with Tension Fabric
The typical tension fabric display is constructed of anodized aluminum tubing covered with a stretch fabric that has been printed with graphics. Most often, the exhibits using tension fabric basically replicate traditional trade show display forms. But now, a few exhibit designers are starting to explore the real potential of lightweight framing, tension fabric, programmed lighting and new printing technology to create some innovative new trade show exhibits that were not possible with traditional materials.
Lightweight framing offers new design freedom
The advent of lightweight aluminum framing means that designers can more freely incorporate tall structures and ceiling-hung elements in booths to increase visibility. It also has enabled designers to cost-efficiently create new freeform shapes and elegant, curved structures. These materials offer almost endless shape and size possibilities. Some designers have even created soaring three-dimensional structures that attendees can enter and be immersed in the brand experience.
Fabric graphics offer versatility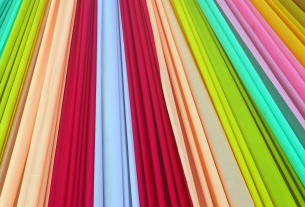 Fabric graphics offer more versatility than laminated panels, and can be produced in varying textures and opacities. Fabrics can be used to add movement and elegance to banners, and hanging elements. And translucent fabrics printed with opaque ink and illuminated with backlighting can be used to add more dimension to the design.
Graphics can be printed on fabric with either a dye sublimation process or a direct ink jet printing process to achieve different effects. Dye sublimation is a continuous-tone printing technology that very closely replicates a chemical photograph and is the best way to reproduce photographs.
Direct ink jet printing produces sharper, brilliant images and is the best choice for highly graphic images. And, with recent advances in high-resolution ink jet technology, high-quality photographic images can be produced with inkjet printing. This printing method can be used on both synthetic and natural fabrics, and allows designers to create fabric graphics on silk, cotton and fabric blends.
Limitless design possibilities
Fabric is a durable, lightweight, versatile, and affordable medium for trade show exhibit design. It provides designers with countless ways to create fresh and up-to-date displays that can make a trade show exhibit stand out at even the most competitive show.