Warning
: file_get_contents(http://www.linkedin.com/countserv/count/share?url=http://alexisexhibits.com/dos-and-donts-for-effective-trade-show-booths&format=json): failed to open stream: HTTP request failed! HTTP/1.1 404 Not Found in
/homepages/1/d100598707/htdocs/clickandbuilds/AlexisExhibits/wp-content/plugins/tk-social-share/tk-social-counter.php
on line
145
So in the past few weeks we've talked about a myriad of trade show topics: how to entertain attendees, how to develop an effective trade show marketing strategy, tips on how to work your booth, how to reduce costs, and ways to plan before leaving for your trade show. Let's take a few steps back and determine what are a few of the DOs and DON'Ts of pulling together a successful, enticing tradeshow exhibit.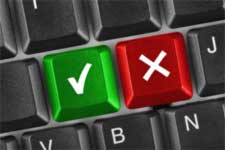 Preparing for a trade show, especially for small companies, can be a daunting task. Deciding what to include and how to set up an actual exhibit/display is one of the fundamental decisions you'll have to make. First step is to contact the show managers and find out the size of the booth you will have, whether there is a wall space for your company sign, if there are electrical outlets available, and any other small items that you might be responsible for supplying.
Here are a few other tips to keep in mind when creating your exhibit:
DON'T overstuff it. Product managers might want to display things that represent every brand or product your company offers. Partners might want their logo splashed all over your booth. Keep in mind that sometimes simpler is better. Booths overcrowded with displays, products, stands, etc., turn off prospective attendees and prevent you from quickly communicating why attendees should visit you.
DO simplify your message. Many exhibitors make the mistake of bombarding their booth visitors with marketing slogans. Instead choose the one core message you want to impart to potential customers and stick to that in terms of graphic presentations. Displaying fewer, but larger visual elements in your exhibit will reduce clutter and better garner an attendee's attention and create a lasting impression.
DO focus on the cream of the crop. Instead of hauling your entire product line to a tradeshow booth and again cluttering your display, overwhelming visitors, and diluting your marketing message, showcase only your new and top-selling products.
DON'T rely on static displays. Any type of motion captures people's attention as opposed to static displays. You can take advantage of this by playing a looping DVD on a widescreen TV or make use of a rotating display.
DO maintain a small, private area. If your booth is big enough, it's nice to have a quiet, private area with a table and a few chairs to take attendees or promising prospects that might like to sit down and discuss your company and its product and services in more detail.
DON'T scrimp on carpet. This might sound silly, but after a long day of walking miles and miles on the unforgiving floors of huge exhibit halls, visitors will appreciate booths that have plush, padded carpet. And, so will your booth workers.